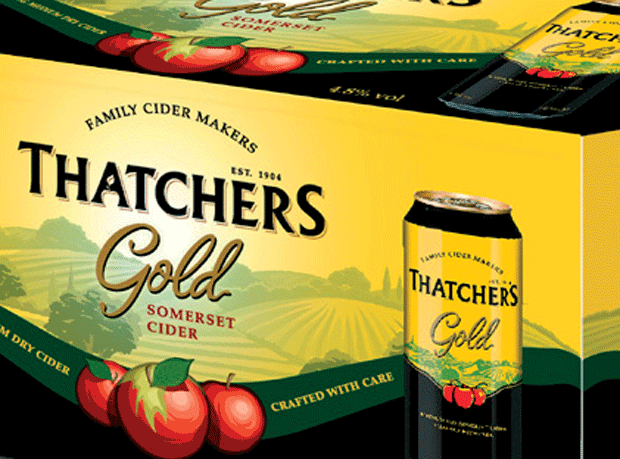 125 (125) Thatchers
Sales: £16m Growth: 7.6%
As ciders go, Thatchers has been a modest performer in the off-trade, but earlier this year revealed its ambitions to secure a top five position in retail. With Thatcher's Gold already the on-trade's second-bestselling draught cider, it may well be up to the task - and isn't afraid to put its money where its mouth is. The family-run business based in Sandford, Somerset, kicked off a £4m marketing push this Easter that included TV advertising on ITV, C4 and Channel 5, and was supported with outdoor and press advertising, plus social media activity.
142 (147) Viñedos de España
Sales: £13.8m Growth: 1,901.6%
Following its launch last March, value sales of this entry-level Spanish range, sold through Tesco, have grown from £0.7m to £13.7m. With fewer wines retailing below £5, this may be one to watch.
118 (140) Rekorderlig
Sales: £17.9m Growth: 118.1%
As well as a £4m marketing budget - featuring a first outdoor ad campaign, limited-edition flavours including Passionfruit and Winter Cider are in place to extend growth beyond the summer peak.
109 (131) Mont Pierre
Sales: £19.2m Growth: 40.2%
Sainsbury's sells four varieties of this wine: sauvignon blanc, fitou, shiraz and shiraz rosé. The brand's strong growth came before the arrival of 2,250ml bag-in-box Chardonnay and Cabernet sauvignon in June.
146 (139) Bollinger
Sales: £13.2m Growth: 30.7%
While Eddy and Patsy might not be around to boost Bolly these days, the brand has been resilient to recessionary pressures - despite being the most expensive Champagne brand in the top 150 at £44.
124 (133) Hobgoblin
Sales: £16.4m Growth: 27.8%
As well as appealing to Lord of the Ring fans, Marston's Wychwood Brewery Hobgoblin achieved notoriety (and extra publicity) as the 'face' of a successful campaign against the Chancellor's duty escalator.
113 (123) Tyskie
Sales: £18.7m Growth: 23.1%
Part of SABMiller's world lagers portfolio in the UK, but while the 5.6% abv lager might appeal to the wider premium market, return flight promos to Polish destinations make it clear who the real target market is.
133 (134) Tiger
Sales: £15.1m Growth: 18.5%
Tiger's status as the biggest-selling beer in Asia is highlighted in the UK through the Hidden Depths ad campaign, which promotes the Heineken-owned lager's Far Eastern provenance.
102 (110) Vladivar
Sales: £21.0m Growth: 13.3%
Still remembered as the "Wodka from Varrington" in 80s TV ads, Vladivar has prospered despite less marketing. Diageo has taken a stake in the United Spirits business, but has yet to provide plans for Vladivar.
106 (111) Glenmorangie
Sales: £20.0m Growth: 8.4%
Single malt Glenmorangie is owned by the Moët Hennessy wines and spirits division of luxury brands business LVHM. A top-of-the-range Signet malt is available in 23 Sainsbury's stores with a RSP of £119.