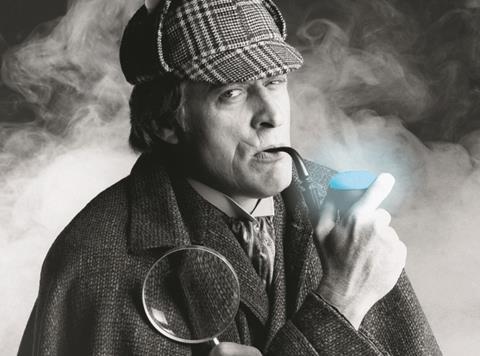 The e-cigs market has exploded. Just two years ago, sales were mostly online and the major retailers were hardly getting a look in. Today the market is worth £91.3m a year to them [Nielsen 52 w/e 1 Jan].
And the market still has plenty of stamina, according to Nielsen, which expects it to be worth £340m by 2015 as more smokers kick the habit and 'vaping' becomes increasingly fashionable (the fact A-listers such as Johnny Depp and Kate Moss are regularly photographed puffing on e-cigs doesn't hurt).
Now the tobacco giants are moving in. BAT-owned Vype entered Sainsbury 's and Tesco in November and US tobacco company Lorillard bought Skycig last October. Imperial Tobacco plans to enter the market this year; others are also eyeing the market.
"The MHRA proposal is ridiculous… it has no hope of going through in its current form"

Katherine Devlin, ECITA
The small brands who started the revolution are now up against giants. They also face another threat, as do the new entrants: looming legislation. Of the many calls for more red tape, from public bans to stricter rules on ads, most controversial is the proposal e-cigs should be licensed as medicines from 2016. So should the industry be worried?
It depends who you ask. The Electronic Cigarette Industry Trade Association (ECITA) is derisive of the clamour for regulation. "This regulation is ridiculous," says ECITA president Katherine Devlin of the Medicines & Healthcare Products Regulatory Agency plan. "It's disproportionate and has been done without consultation. I don't think it has a hope of going through in its current form."
However, the proposal also has some very powerful supporters. Nicoventures UK - the subsidiary of BAT that looks after Vype - has already applied for a medical licence, which, if granted, could make the brand available on the NHS by the end of the year. Nicolites has also applied for a licence and US market leader Njoy has voiced support.
The likes of BAT will no doubt be lobbying hard in Westminster and Brussels. Critics argue the legislation will give larger players an unfair advantage because smaller companies will not be able to afford the cost of getting licensed so will effectively be priced out of the market.x
"Regulation will draw a line under stories that e-cigs are worse for you than real cigarettes"

Nikhil Nathwani, Nicolites
The flipside of the argument is that the move will make e-cigs more legitimate in the eyes of the public, and ultimately safer, by setting common standards that all products must meet and deterring less scrupulous players from the market. That has to be in the interest of everyone involved, say supporters.
"There are a lot of unsubstantiated stories saying that e-cigs are worse for you than real cigarettes," says Nicolites MD Nikhil Nathwani. "When we've met the regulation it will draw a line under all of that. It will give consumers more confidence in e-cigarettes."
More regulation
Others contend that a relative lack of regulation in the UK is a key reason why e-cigs are growing at a faster pace here than in the US market [Nielsen]. The introduction of lots of red tape will stifle one of fmcg's precious few high-growth markets, they argue.
"The US is becoming more restricted with states introducing public vaping bans. Frustratingly, there seems to be a growing trend to treat e-cigs like tobacco," says Freshcig MD Ben Wilson.
The trend appears to have spread to the UK: the British Medical Association is pushing for a public ban, the ASA is drawing up stricter rules for e-cig ads and in January the government banned their sale to under-18s by amending the Children & Families Bill (a move generally supported by the industry).
Another reason for the UK's faster rate of growth is the consolidated nature of the market. For example, the listings won by Vype last autumn - in Sainsbury's superstores and forecourts, Tesco Express, Tesco and Shell forecourts and McColl's and Spar c-stores - gave Nicoventures national exposure in one fell swoop. While the brand doesn't appear among 2013's bestsellers, it will surely be a different story next year.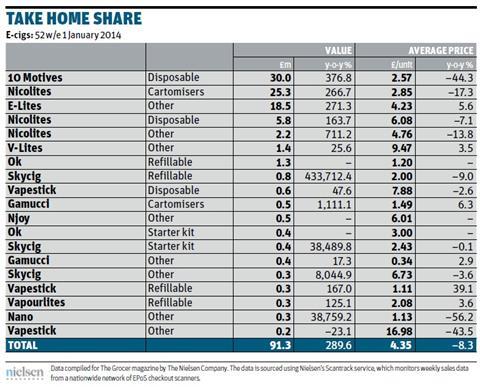 Greater distribution is essential to all brands, says Nathwani: "Online was important when we first started, simply because of accessibility, but now we're in supermarkets , c-stores and indies. We're trying to emulate the way smokers buy cigarettes. No smoker has brought cigarettes online - they're used to going to the supermarket or corner store. So our focus is on in-store availability."
Marketing initiatives - such as Nicolites' app to guide vapers to their nearest stockist (including the 1,000 Tesco Expresses that recently listed it) and Vype's £3.6m Experience the Breakthrough campaign launched in November - are essential if brands are to convince retailers to stock them.
"We know that increasing numbers of customers are looking to buy e-cigarettes, particularly as the brands ramp up their marketing spend," says a Sainsbury's spokesman. "We sell all the major brands and, while it's still only a small part of sales, we want to meet our customers' needs."
Innovation key
Greater competition between brands in the major retailers is having the inevitable impact on price. In the past year, the average price of e-cigs has fallen 8.3%, with 10 Motives and Nicolites cutting their price by 44.3% and 17.3% respectively [Nielsen].
"So far, a lot of the battle to win over consumers has been fought on price. This has been a necessity to tempt people to try electronic cigarettes as they are still relatively new to many consumers," says Lynne White, head of retail distribution at VIP, which has actually seen a slight increase in price over the past year following a host of NPD and repackaging in 2012. "Promotions and discounts will always play a key role."
"A lot of the battle has been fought on price… promotions will always play a key role"

Lynne White, VIP
Innovation will be key if brands are to convince vapers to pay more for their nicotine hit. We've already had launches of e-cigars and e-hookahs and recent developments suggest further tiering of the market is set to take place (for example, VIP makes much of its 'premium' e-liquids, while Vype has a pharmaceutical-grade version).
"Innovation will lead the development of pricing," predicts Neil Hardy, head of Nicoventures UK. "Most brands are priced around the everyday low price proposition, but innovation and quality will segment the market."
Especially if the US market, which has welcomed increasingly premium entrants lately, is anything to go by. "US sales grew from nearly nothing to $1bn in about three years," says Skycig president Tom Rolfe. "The UK market is about 12 to 18 months behind in terms of market penetration and availability."
This is partly why it's growing at a faster rate, of course. The question is: will it be able to keep it up?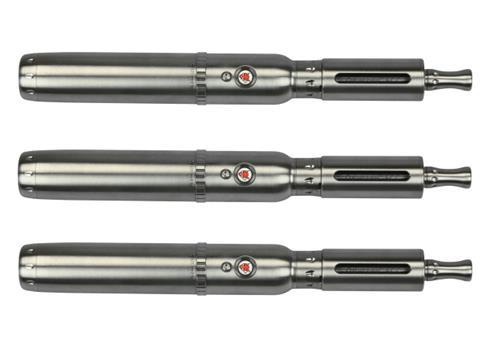 Odyssey VV
Launched: February 2014 
Manufacturer: Totally Wicked
While the mainstream market for e-cigs expands, other brands are focusing on the niche but growing market for e-cig connoisseurs. The Odyssey VV from Totally Wicked centres around the 'variable voltage' proposition, with a dial vapers can twirl to reach the ideal voltage output. It has more in common with a hi-tech hookah than a typical cigarette and is one of the second and third-generation devices that commentators believe some dedicated vapers will eventually switch to. Rsp: £129.99.
Freshcig e-liquid
Launched: January 2014
Manufacturer: Freshcig
Freshcig has launched a range of 18 flavoured e-liquids for its e-cig refills (rsp: £12). Variants include four tobacco flavours (Classic, Premium, American and Rolling Tobacco). There's also an extensive food-focused selection from Strawberry Dream and Menthol Blast to apple , Black Forest Gateau and Pina Colada.
Vype
Launched: September 2013
Manufacturer: Nicoventures UK
Vype (rsp:5.99), from BAT subsidiary Nicoventures, has a 'realistic' tip and a similar weight and feel to normal cigarettes, and comes in disposable and rechargeable formats in classic (bold and regular) and menthol. The Ecopure e-liquid is made in the UK using high-quality ingredients including pharmaceutical-grade nicotine.
VIP Menthol Disposables
Launched: January 2014
Manufacturer: VIP
While Nielsen says refillables are the e-cigs to back in the long-term, most vapers start off on disposables. New to the sector is VIP's disposable range, which includes a menthol flavour for those who prefer a mintier hit. The relatively high (24g) nicotine content eases the transition for smokers, says VIP. Rsp: £6.99.