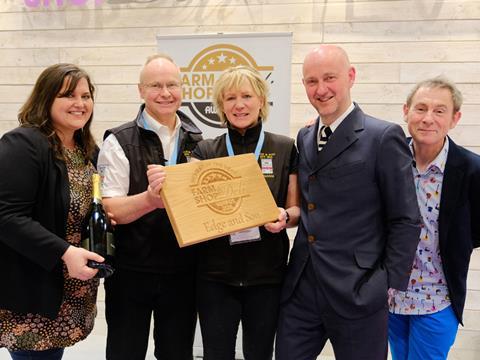 Dilapidated New Ferry high street doesn't exactly look like the home of the Farm Shop & Deli Retailer of the Year. The Wirral town is yet to fully recover from a huge gas explosion last March, with boarded-up windows and damaged buildings everywhere. Approaching Edge & Son butchers the store is modestly sized. There's a painting of New Ferry in the 1840s when it first opened on a wall. A sign calling for 'Respect Farms, Not Factories' sits outside. The décor is traditional, the staff friendly. But Retailer of the Year?

Nobody is more mystified than owners Callum and Debbie Edge. "There are some amazing retailers round the country, so the fact our scruffy little butchers shop in New Ferry won is just wonderful," says Debbie.
Other FS&D winners
Baker: Filbert's Bakery
Butcher: Edge & Son
Cheesemonger: The Courtyard Dairy
Delicatessen: The Goring Grocer
Farm shop (large): Denstone Hall Farm Shop & Café
Farm shop (small): Welbeck Farm Shop
Fishmonger: Fyne Fish (Cockermouth)
Food hall: Webbs
Greengrocer: Rafters
Market: West Malling Farmers Market
Newcomer of the year: The Goring Grocer
Online business: Farmison & Co
Village store/local shop: FINK
With their wealth of farming knowledge and expertise on nose to tail butchery and native breeds, it quickly becomes clear why they scooped the 2018 title, though. "We don't call ourselves farm to fork, we're gene to fork," says Callum. "We make sure we know all about the gene pool of the native purebreds we buy in, and have really strong relationships with our farmers."

The ethos of supporting native livestock (their meat is 100% native breeds, the majority from within a 25-mile radius) has bred many an 'Edgetarian', with many customers travelling miles to visit the store. "Average basket spend is around £50, which is really unusual for a butchers," says fifth generation butcher Callum.
And the high average spend isn't due to prices. "I honestly believe the meat we have is the best meat you can get, but it shouldn't be elitist," says Callum. "Everyone should be able to afford high quality meat, not just millionaires. A lot of the locals are on moderate incomes but they are still able to shop with us."
The second USP sits behind the shop. The Edge & Son slaughterhouse has been operating since the business began in 1844, and is still used weekly by Callum and his team for their own stock and for other farmers in the area. Contract butchery accounts for a third of profits, with another third coming from wholesale and the final third from retail.

"Today we've had two cattle in that we don't own. We've slaughtered them, will dry-age them and butcher them for two separate businesses," says Callum. "We're keeping around 17 other businesses going through the work we do here."

The team go to great lengths to ensure they perform stress-free killings, with animals unloaded hours before slaughter to allow time to settle. They also take the final two animals to slaughter together to avoid the stress of isolation.

"As well as being the right thing to do, the meat from a calm animal is a much higher quality," says Callum. This approach gives them an advantage over supermarket meat, he believes. "You can see and taste the difference in quality."
After slaughter, carcases are hung for 12 hours before being chilled for up to six weeks. "A lot of butchers don't believe we can hang or chill our meat for that long, but our refrigeration systems are among the most hi-tech in the country. We not only refrigerate, we also dehumidify and have UVC lighting, which cleans the air. All that combined with an animal killed in a stress-free environment means we can hang our meat longer."

As well as stocking nearby retailers, Edge & Son also supplies to London rarebreed butchers Heckstall & Smith. The business has also held monthly butcher masterclasses since 2010, with nose-to-tail butchery techniques taught to customers, chefs and farmers by Callum, both at the Edge & Son site and at Liverpool deli Delifonseca, which has had an Edge & Son butchery counter for the past two years.

"Our masterclasses show farmers how to profit from every part of the animal," says Callum. "At the end of each class we price up the animals they've worked on to show them how much more profit can be made with the right butchery skills."

It might not be obvious at first glance, but Edge & Son's passion, integrity and mindfulness is deeply ingrained. As Callum puts it: "We aren't the flashiest of retailers, but we have some of the strongest ethics of any retail business in the country. We respect our animals, our staff and our customers, and I truly believe we sell the best meat you can find in the UK."