Monsanto has used the retraction of a controversial scientific paper about its Roundup weedkiller to stress its commitment to safety, but the decision has been slammed by some scientists.
The paper, authored by Professor Gilles-Eric Séralini, was published last autumn in Food and Chemical Toxicology, an Elsevier journal. It stated that rats exposed to Monsanto's Roundup - the world's best-selling weedkiller - and/or its genetically modified NK603 maize suffered severe toxic effects, increased tumour rates and higher mortality.
The study reignited the debate about GMO safety across the world, but last week Elsevier announced the article's retraction, following a review carried out by the journal's editor-in-chief. The journal asked Seralini to retract the study himself, but he refused.
Elsevier said its review indicated there was legitimate cause for concern about the small number of animals used in each study group and the particular strain of rat used by Séralini. "A more in-depth look at the raw data revealed that no definitive conclusions can be reached with this small sample size regarding the role of either NK603 or glyphosate in regards to overall mortality or tumour incidence." These shortcomings were found even though a peer review had been carried out before the Seralini paper was published.
The Seralini study was criticised by many scientists and scientific organisations - including the European Food Safety Authority - at the time of its publication, but the European Network of Scientists for Social and Environmental Responsibility called the article's retraction a "severe blow to the credibility and independence of science, indeed a travesty of science".
Monsanto said it always maintained that Séralini's findings were not supported by the data. "Conclusions about a matter as important as food safety must be based on quality science that adheres to internationally recognised standards," it added in a statement. "At Monsanto we remain committed to adhering to these rigorous scientific guidelines because the safety of all of our products, including crops improved through biotechnology, is our utmost priority."
Coconut oil supply jitters continue in wake of Haiyan
Coconut oil prices continue to rise both year on year and month on month as a result of the typhoon that hit the Philippines, the world's largest producer, last month, sparking concerns about short to medium-term availability. High coconut oil prices are taking their toll on palm kernel oil as the two oils can be substituted for each other to a degree.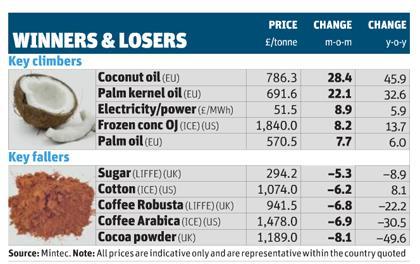 Cocoa powder prices remain on a downward trajectory as a result of increased demand for cocoa butter. Cocoa butter and powder are derived in equal proportions from the cocoa bean, and as cocoa butter production has increased to respond to higher demand, so has production of powder. However, consumer demand for powder has not kept pace, causing prices to fall.
Prices digest
Data: Rothamsted Research has invested in an unmanned drone to help monitor crop development. The 'octocopter' will be used to collect crop data using video and imaging equipment.
Oilseed rape: Researchers at the University of Hertfordshire have mapped disease in oilseed rape crop in China to help the Chinese government better manage crop protection. China is the world's largest producer of rapeseed, and the health of its crops is vital to global food security.
Wheat: Canada is on track to harvest its largest wheat crop ever this year, with a record crop also on the cards for rapeseed, according to a new survey by the Canadian government. Total wheat production was now expected to reach 37.5 million tonnes, Statistics Canada said.
Maize: China has rejected about 120,000 tonnes of maize imported from the US because it was cross-contaminated with a type of GM maize not yet approved by the Chinese government.