It's one of the hottest apps in town, not that you'll find it in the iTunes store. Indeed, few people have even heard of it. Yet Mapster is set to have an impact on the lives of thousands of consumers up and down the country. Unlike the app of the same name that IS available through iTunes, this app has been developed by Tesco to allow online customers to find out where their delivery van is.

"[Consumers] tell us that while they appreciate the convenience of online shopping, they obviously get frustrated if their delivery is late," Tesco CEO Philip Clarke told an FT innovation conference last November. "We have created Mapster so if a van gets caught in traffic we can identify that centrally and alert customers. We're currently piloting this in some stores around London and we're planning to roll this out to the UK business early next year."

Although Tesco refuses to divulge when exactly it plans to give Mapster a full rollout, it's clear that it has high hopes for its traffic app and it's not the only retailer with aspirations in this area.
Ocado, which offers one-hour delivery slots to online consumers, already allows customers to see how their orders are progressing on both its website and mobile apps as part of its 'Where's my order?' feature. Ocado launched the feature over a year ago and is now preparing for the launch of the second version. It is already trialling the technology with staff, but is not committed to a launch date.
But what's behind this push from retailers - and does it matter that suppliers are lagging behind when it comes to offering their customers, aka the retailers, the same delivery visibility?
"A distributor might have more than 10,000 different journey paths, each of which could start at different times"
One reason for the sudden interest in apps such as Mapster is that the likes of Tesco and Ocado are starting to place greater emphasis on customer service online as they vie for consumer loyalty - and it won't be long before nice to have becomes need to have.

"In the long term, this kind of service will be the de facto standard," predicts Alan Braithwaite, visiting professor in supply chain management at Cranfield School of Management. "Proactive customer communication is going to be the norm. If customers have a smartphone, they should be able to go in and trace their own orders. It has to be available."

In the future, customers will also expect to be able to reroute grocery deliveries, to, say, their office, as they currently can do for non-food deliveries via other retailers, or even reschedule them once the van has left the depot, says Braithwaite, who is also chairman of LCP Consulting.

"The smartphone is putting an invitation into the customers' hands to demand flexibility," he elaborates. "But companies such as Tesco have learned that if these things go off half-cocked, the Twittersphere will crucify you instantly."

And getting an app onto a customer's phone, and sharing information about van location, is not necessarily the toughest part. As customers demand more flexibility, grocers need more information about and control of their own supply chains to ensure their stock levels keep up with both in-store and online demand. That requires a common supply chain-wide view of inventory and orders, something they've been slow to embrace to date, claims Braithwaite.

The supplier challenge

It doesn't help that their supply chains are so complex, making the prospect of linking every element a real challenge. The good news is that some suppliers are starting to track all deliveries and share details with retail customers. Mike Danby, CEO of distribution firm Advanced Supply Chain, which delivers around 350,000 cases of ambient product to Makro every week, says his company can optimise routes, track vehicles and give customers warning of any delay using technology from Paragon Software Systems, which also counts Morrisons among its customers.

"Pre-warned is pre-armed," says Danby. "If the customer knows up front, it can ask staff to work an extra hour. If you can tell them that at nine in the morning, it makes a big difference at four in the afternoon."

The system, which also uses telematics information from Masternaut, manages 300 vehicles, each with three or four drop-visits to nearly 1,000 drop-off points and up to 400 pick-up points.

"It is very complex. You need some heavyweight computer to optimise that," Danby says. He will not disclose the cost of the investment in the system, which went live last year, but says he expects a return of around 8%. "The payback time is very short, and that ends up going back to our customers."

Smaller grocers, too, can benefit from software to better manage deliveries. Filshill supplies more than 1,400 independent retailers from the Highlands to Leeds, using a system from Optrak. "We identified the process of how we route, accept and pick our orders, and how we get the orders out to customers," says MD Simon Hannah. "The problem we had was a lot was done manually. We needed something to cut through the guesswork and get to the facts."

The system helps optimise routes and vehicle loading, producing a detailed plan for the following day's deliveries. This has allowed Filshill to reduce its fleet size by two trucks, which, together with fuel efficiency, has resulted in overall savings of £200,000 since the system was rolled out, says Hannah.

Systems such as Optrak use data describing general traffic patterns including rush-hour times. But while retailers may be capable of avoiding traffic when delivering online orders to customers, it's more challenging for their suppliers to adapt to congestion as it occurs on the road, says Optrak MD Tim Pigden.

"A distributor might have more than 10,000 different journey paths, each of which could start at different times. We cannot make those paths as smart as TomTom makes it for consumers. Unlike an individual satnav calculation, we don't know about a traffic jam building on the M1. We are creating an estimated plan."

Even if it were possible to reschedule deliveries to retailers in response to live traffic data, trucks could not deliver goods out of sequence because of the order in which they are loaded. Also, data about the impact of traffic jams on nearby roads is not available.

"It is really hard to react in a meaningful way. Road stats [describe] quite a lot about the effect on a road if there is an accident. But they know next to nothing about the effects on other nearby roads," says Pigden.

Addressing this problem is one of the key objectives of the newly established Centre for Sustainable Road Freight, which includes Optrak, Cambridge University, John Lewis, Tesco and DHL among others. The centre has its work cut out to ensure the grocery industry - and ultimately consumers - get the seamless re-routing and rescheduling of deliveries they'll soon expect.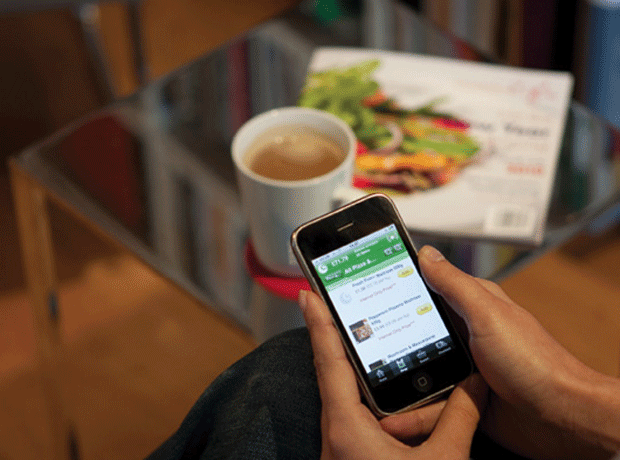 Case study: Ocado puts apps on the map
For road users, the school run is an inconvenience, but for Ocado, it is a serious technology challenge.
"Our van routing, in terms of not letting customers down, is a key part of our service and we need to have complete control of that," says Paul Clarke, director of technology.
To do so, Ocado collects data from its vans covering speed, cornering, fuel consumption and braking amongst other information.
"All that data is fed back, both in real time, then in a greater granularity when the vans come back to base. That creates a virtuous circle to improve future routing optimisation decisions," says Clarke.
"We care about road speed data to a level of granularity that, in many cases, you cannot buy or that other people cannot provide. That's why we are very self-reliant in regards to that data."
It needs to be. Ocado runs the world's two largest automated grocery fulfilment centres - Hatfield and Dordon. "The way that those warehouses are built and the technology behind them allows orders to come out in a dependable sequenced fashion."
Ocado plans delivery routes and schedules using software it developed in-house, after it rejected the best-in-class software package, claims Clarke.
Ocado customers can change their orders after they have been allocated a delivery slot, up to a certain cut-off point. This means the software will re-work routes and schedules many times.
Customers who are environmentally minded can select a 'green van' option, offered for delivery slots when there will already be a van in the customer's area.
At the moment, Ocado texts customers confirming their delivery is on time, or running late. It also gives information such as the driver name and vehicle registration.
Ocado offers apps on iPhone, iPad, Android phones and tablets as well as Windows 7 phones and Blackberry systems, which store a complete catalogue offline, so customers can select their orders wherever they are.