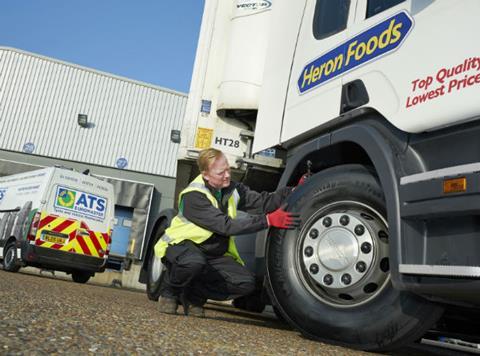 Heron Foods, the 250-strong independent grocery retailer, has cut its annual tyre bill by 18% by using a new supplier.

The saving came after Heron Foods' fleet of 100 trucks and trailers adopted a full Michelin tyre policy 18 months ago. The retailer also reported significant improvements in vehicle uptime and fuel consumption across the fleet as a result of its switch.

The Humberside company uses its delivery fleet to complete two rounds of multi-drop deliveries to stores each day. Each commercial vehicle travels more than 100,000 miles each year, transporting a mix of frozen, chilled and ambient goods to its high street stores across the north of England and the Midlands.

"Our trucks cover a serious mileage each year and durable, hard-wearing tyres are proving integral to keeping operating costs low," said Karl Dawson, head of logistics at Heron Foods.

"The move to Michelin rubber has unlocked a more cost-effective tyre policy, plus we have the peace of mind that by fitting a premium brand we're benefiting from the best reliability, safety, fuel efficiency and compliance that we need as a vehicle operator.

"Robust tyres are critical to our business. We only have a couple of spare vehicles on any given day so it's paramount the trucks stay on the road. Many of our stores are in pedestrian zones, meaning that deliveries are strictly timed. If we miss a timed delivery slot we are forced to wait - and ultimately that translates into lost sales."

Heron Foods was established in 1979 and employs more than 3,000 people at its head office and a network of stores.