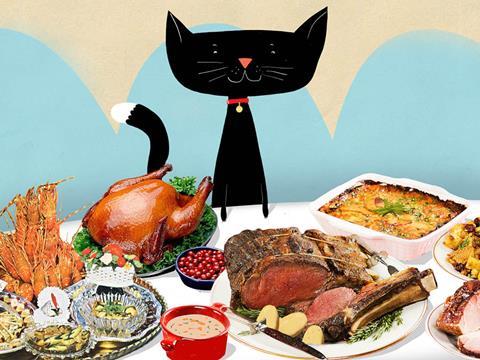 Britain's pets have never had it so good. Brits are twice as likely to be prepared to cut back spend on their own groceries than their pets', according to our research. Just over a third say they have actively tried to reduce their food bill in the past year while just 16% of pet owners say they've tried to be more frugal with what they buy their furry friends (see below).
"It seems pet owners are not willing to compromise on their pet to save money," says Lucia Juliano, head of research at Harris Interactive, which polled 1,200 consumers on our behalf. "Owners clearly take their role as 'pet parents' very seriously, and are treating their animals like members of their family. They are not willing to compromise unless they have to."
Pampered pets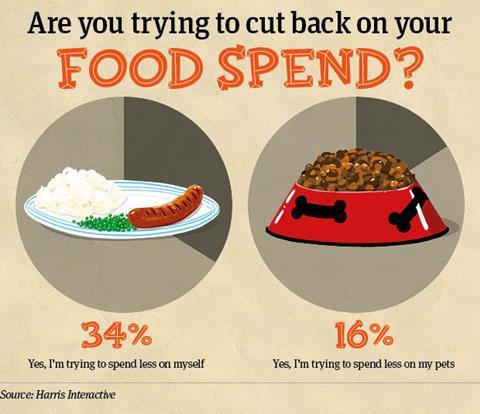 It doesn't stop there. Not only are British consumers happier cutting their own food budget than their pets', the majority of owners are also sharing their dinner with their four-legged friends. 72% of owners admitted to feeding their pets human food, although 11% did say they feel guilty doing so.
Now owners can assuage their guilt by feeding their pets with a growing range of products inspired by human food, including raw sausages for dogs and soups and casseroles for cats. Such NPD is pushing up the price many are spending on feeding their pets.
Humanisation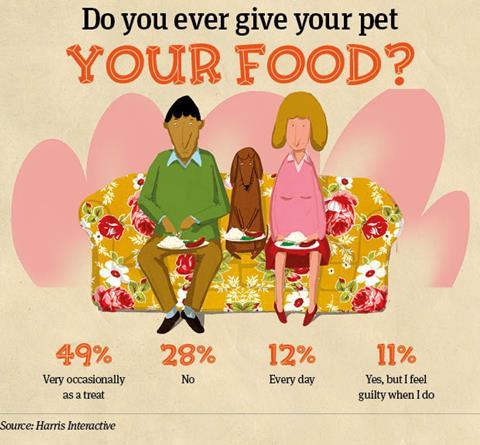 "Humanisation is one of the key trends driving the market at the moment," says Amy Wigg, senior brand manager at Lily's Kitchen. "Pet owners are looking for the same quality of meals to feed their pets as they want for themselves, as well as seeking out ways to share family occasions with their pets."
Manufacturers have been quick to tap the trend. "In the past 18 months, there has been a flurry of novelty products, such as beer and ice lollies for dogs," says Juliano. "Similarly, we are seeing petfood continuing to mirror many of the trends in human food, such as natural, raw and organic."
The unprecedented levels of premium and artisan product launches in the past five years have projected luxury, healthy petfood into the mainstream. Pet owners are more concerned than ever about the diet of their animals, and are selecting products that promise health, wellbeing and quality. Which begs the question: are our pets eating better than we are?
Nowhere is the shift towards human-quality petfood better exemplified than in the luxury catfood market. Despite sales of catfood dropping 4.2% this year [Kantar w/e 18 June 2017], luxury is up 3.6%, continuing its steady growth for the fourth consecutive year.
It's not hard to see why. The sector has seen high levels of innovation and new product styles in recent years; among them the cat soups from Sheba and Whiskas casseroles (cat-sseroles?). "We know that shoppers are increasingly willing to pay a premium for quality in their petfood," says Roberto de Felice, strategic demand director at Mars Petcare UK.
"Cats can be divas when it comes to their main meal and change their habits continuously – which originates from the deeply engrained behaviour of wild cats, who purposefully seek variety in their diet when hunting for their own food. As a result of this behavioural trend, shoppers find themselves trading up to to more premium brands."
Dogs' dinners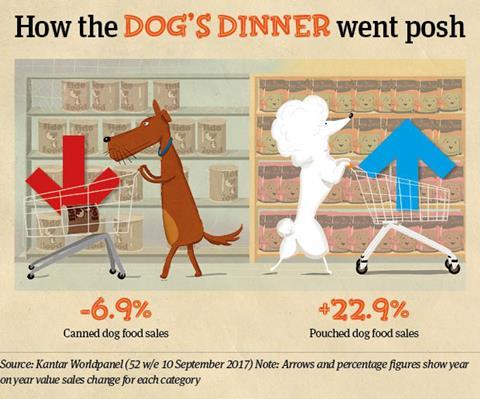 The relatively new phenomenon of wet dogfood pouches has picked up significant speed this year, growing 22.9% (Kantar). It's clear where the inspiration for this has come from. Leading catfood brand Felix's most recent figures show its pouch products are outselling cans at a rate of 67 to one.
According to Liz Wood, market development director at Felix brand owner Nestlé Purina, the sachet trend is here to stay. "In the last three years, there has been a 24% decrease in the purchase of cans and a 4% increase in pouches," she says. "It's clear that pet owners are moving away from cans."
Convenience is a key factor in the pouch's rise to prominence."Consumers are looking for a convenient and fresh way to feed main meals to their dogs and this is offered by pouch formats," says Felice.
"With a rise in urban living, particularly among young professionals, there has been a significant increase in the population of small dogs, with the largest percentage of dogs in the UK (37%) classified as small. Pouches are the perfect serving size for smaller dogs, meaning there are no leftovers and food is always fresh."
Still, perhaps unsurprisingly, our research shows that urbanites are far less likely to be pet owners than the general population. Some 44% of Londoners do not own a pet, versus the national average of 38%. Still, ad & marketing agency Ogilvy reckons it has a novel way of helping this group engage with animal life.
Creative challenge: Urban Vertical Lawns
We challenged advertising and marketing agency Ogilvy to find a way to connect urban millennials with wildlife endangerment in their local area. Here's what they came up with..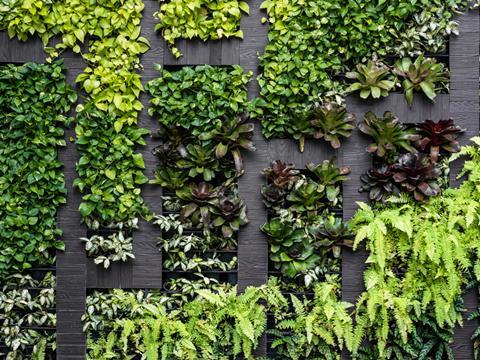 "There's nothing in the current market that really targets individuals without gardens who want to provide habitats for local wildlife" says Matthew Freeman, creative intern at Ogilvy UK. "The Urban Vertical Lawn allows everyone with access to an external wall to create their own green space."
Freeman and colleagues drew inspiration from Italian urban planner Stefano Boeri's Bosco Verticale (Vertical Forest) project - a Milan apartment complex festooned with hundreds of trees - after we challenged them to come up with a concept that connects urban millennials with wildlife.
The lawns are grids of nine squares on either wooden or metal frames. Plates can be purchased and attached on to a square, each containing flora and habitats that directly benefit wildlife, including bird houses and butterfly boxes. If an individual tires of a plate, or the attached plant dies, they can simply unclip the four hinges and replace it with another.
The key strength of the Vertical Lawn, Freeman states, is that it eliminates typical millennial barriers to gardening – space, time and knowhow. "The product is low maintenance; it's easy to fix on to a wall and plates can be removed and replaced quickly. There's no need for a knowledge of gardening or plants."
Cost has also been kept to a minimum to encourage purchases from customers with lower disposable income. "Rented accommodation is increasingly expensive these days, and many tenants either can't or won't want to spend a lot on their garden. Nobody wants to spend time, money and effort on a lawn that isn't theirs. We'd price the grid at £20, with individual plates just a few pounds - no more than you would pay for a potted plant at your local Homebase."
As well as contributing to urban wildlife populations by re-establishing habitats that are rapidly disappearing under concrete, Urban Vertical Lawns provide much-needed green space in areas that are likely to be lacking. Studies have shown the benefits of green spaces for mental health can be worth as much as £300 per year per person.
It is advised that stockists of the Urban Vertical Lawn research their locality as well as the demands of their customer base before selecting panel ranges. "Panels including the more aesthetically pleasing flowers such as lilies would be popular, but retailers need to also consider the wildlife that is native to their area, as well as declining populations that are in need of new habitats."
The versatility of the product could offer a plethora of opportunities for supermarkets, Freeman continues. "Panels growing herbs could be displayed within the fruit & veg aisle, for example, or could feature on the retailers' own external walls, serving as inspiration for customers as well as showing a commitment to providing habitats for local wildlife."
Retail share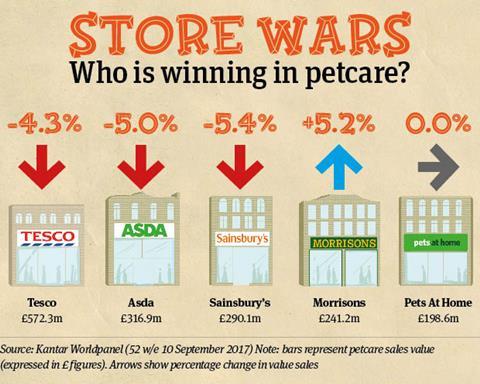 Petcare could certainly do with some fresh thinking like the above. The market has been hit hard this year, losing a total of £99m (4%). Research from Kantar has found that shoppers are making less frequent purchases of petfood, making the purchases they do make of vital importance for retailers.
While many supermarkets have felt the rub of fewer shopping trips among pet owners – Tesco, Asda and Sainsbury's each lost more than 4% of their market share this year – Morrisons is cleaning up. "Morrisons has performed strongly in the last year," says Kantar analyst Adam Dobson.
"Not only do they over-perform in petfood compared with grocery, but they are also growing their petfood sector by over 5% year on year whilst the rest of the big four supermarkets are in decline. Morrisons has achieved this by encouraging shoppers to buy more volume each trip (through a change in emphasis towards y-for-£X promotions) despite prices increasing."
How pet food went posh
1. Sheba Classic Soup Range
Promising a "novel dining experience your feline friend will delight in", Sheba's classic cat soup range includes chicken fillets, fish fillets and veg and tuna fillets, each using 100% real fish, chicken and seafood. The range has seen great success so far, with 80% of reviewers stating they would recommend the 40g pouches. Rsp: £1.99 per 6-pack of 50g pouches.
2. Natural Instinct Fish Fingers
Natural Instinct's canine twist on a British favourite is made using 100% naturally dehydrated coley fillet, a member of the cod family. The frozen treats contain 64.8% protein, and are priced at £4.50 per 100g packet.
3. Pets Choice Meatiful range
Launched in September, Pets Choice's Meatiful range consists of three sausages – free-range chicken, farm-reared duck and Scottish salmon. Each product is 100% gluten, fairy, soya and wheat free, and includes added vitamins and minerals. Available in 320g (rsp: £1.99) and 720g (rsp: £2.99) varieties, Meatiful products are made using vet-approved recipes.
4. Whiskas Casserole
Whiskas casseroles are available for cats of 1+ and 7+ years, offering a complete and balanced meal with "natural-looking, meaty chunks providing a totally new and delicious texture sensation". Varieties include a meaty, poultry and fishy selection in jelly, each of which contain 22% meat and animal derivatives. Rsp: £4.50 for a 12-pack of 85g pouches.
5. Lily's Kitchen Mini Venison Sausages
Made from top cuts of grass fed British venison, Lily's Kitchen sausages are naturally air-dried to provide maximum nutrition, and are free from artificial flavourings, colourings and additives. Available in 60g packets for £4.49.