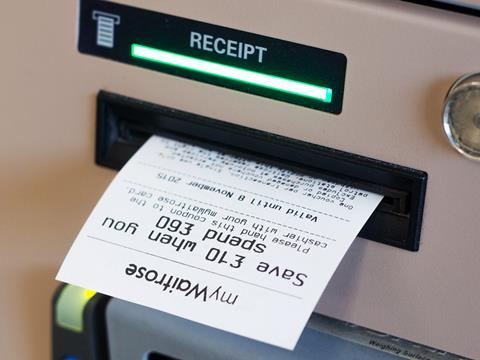 Waitrose has brought in new technology designed to give discount vouchers to its customers according to what is in their baskets. The service will also keep myWaitrose members informed about changes to its Pick Your Own Offers (PYOO) scheme.

The technology, from marketing specialists Ecrebo, is now in all Waitrose locations after a six-week trial across 11 stores in the first quarter of last year.

Ecrebo works at the point of sale by analysing what shoppers have in their baskets and their buying histories.

An example might be money-off vouchers, with one group of shoppers receiving 'save £5 when you spend £50' while another, heavier spending group could be given vouchers for £10 off a £100 shop.

Ecrebo said another example was the use of targeted messaging to support PYOO for myWaitrose members.

With Ecrebo, customers who had not enrolled in the programme could now be given a voucher with their till receipt telling them of the benefits of membership, while those who buy eligible products would be told of the discount available on those products.

Customers enrolled in PYOO but who have not kept their choices up to date could now be reminded of the benefits of doing so.

As well as money-off discount vouchers and PYOO reminders, customers could be given recipes for favourite foods - again, depending on their shopping habits.

Other retailers already using Ecrebo's technology include Marks & Spencer, which has it in food and general merchandise, and Planet Organic, while fast food chain McDonald's has also taken it up.

Dr Hassan Hajji, Ecrebo co-founder and CEO, said Waitrose was recognised for giving its customers the best possible service.

"In an increasingly competitive retail landscape our proven platform will help Waitrose strengthen customer engagement and drive additional sales."

So far, Waitrose has mostly used Ecrebo for myWaitrose members but it is starting to use it for non-members to collect feedback on their shopping.

Waitrose customer loyalty manager Sam Winterson said rolling out Ecrebo was one of its smoothest IT implementations.

"We've been particularly impressed with the instant flexibility of the software, which allows us to deploy or change promotions in a matter of minutes," he said.

Since launching in 2010, Ecrebo has processed in excess of £30bn in transactions, delivered over 800 million personalised offers and generated more than £500m in additional sales for its retail partners.