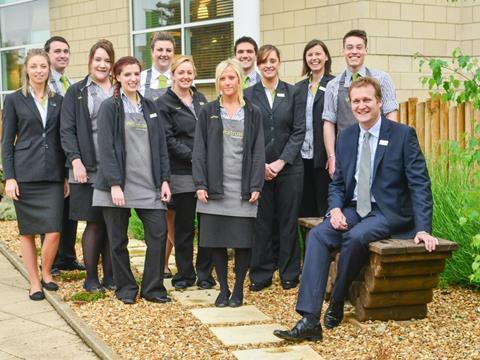 In 1994, Mike Snowdon was managing a branch of Top Man when he picked up The Grocer and flicked to the jobs at the back.
"Fashion is a young man's business and age was creeping up on me," he recalls. "Besides, the thing I really enjoyed was managing and developing people and I wanted to do it on a bigger scale. And there is nothing bigger than a supermarket . I saw an ad for Safeway and applied."
Snowdon enjoyed food retailing and was promoted, but he gradually became disillusioned by the "plc way" Safeway was run. "It was struggling, there was a lot of short-term thinking, and not enough thought was being given to the people."
Video: The Store Manager of the Year 2014 judging
So in 1999 he cast his eye around again. "Two former Safeway colleagues had joined Waitrose and were telling me about the John Lewis culture and the autonomy they had to manage people. It really appealed."
In 2000 he became manager of Waitrose Andover, moved to Winton in 2002, Abingdon in 2003 and Cheltenham in 2009. "Seventeen years after joining Waitrose I am very happy," he grins.
He's certainly happier than he was before giving his presentation to the judges.
"I was nervous going in," he admits. "I was surprised just how nervous, considering there wasn't a job riding on it. But afterwards I thought it was quite an enjoyable process."
And of the moment he went from spotting an ad in The Grocer, to being lauded as The Store Manager of the Year, he says: "I was surprised and delighted. Quite a few people had said Waitrose never win it."
So how did Snowdon pull it off? What's his advice to other store managers?
"Moving from the John Lewis supply model was traumatic"

Mike Snowdon
Snowdon's performance featured several examples of exemplary store and man management. For instance, there was the challenge of getting the team behind a new supply chain system after the 12-year-old 59,000 sq ft Cheltenham store, which used be a Waitrose with a John Lewis home section, became Waitrose Food & Home.
"Moving from the John Lewis supply model was a traumatic experience. It took a lot of leadership to get everyone on board because when you change supply chain, things don't click immediately. So the challenge was to keep everyone engaged and enthused. Eventually I could sell that story, but it was a tough six months."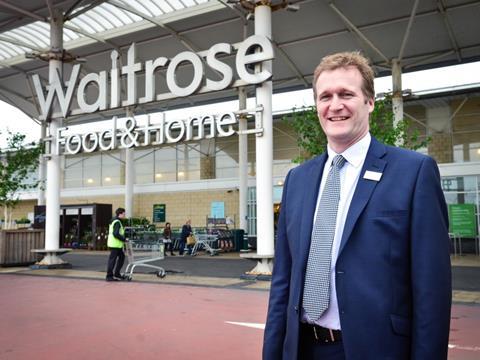 myWaitrose
Less traumatic, but no less skilfully sold, were the benefits of free coffee . For some colleagues, particularly in the cafe, this was counter-intuitive, he recalls. "Why give away something for free that you used to sell?"
Snowdon drove home the benefits: the loyalty engendered "by giving customers something tangible" for free; plus the customer data captured by Waitrose when people signed up to myWaitrose, then challenged the cafe to upsell. Snowdon says everyone got behind it and, in terms of free coffee, Cheltenham ended up just one place behind the flagship Canary Wharf store (next year he wants to be number one) in terms of cafe sales. Meanwhile, footfall is up 15%.
Another initiative was the Cheltenham 'Academy', set up by Snowdon last year to foster young talent at the store by "taking what Waitrose is already doing with training and building on it." After 12 months the Academy has produced three branch managers, two department managers, three section managers and six assistant section managers. It's also led to the creation of a new "strategy for developing and identifying talent across the region."
Yet as Snowdon puts it, "all this would be meaningless if we hadn't kept our eye on the basics of shopkeeping."
The numbers suggest they have. Since Snowdon took charge, Cheltenham has topped The Grocer 33 service and availability survey three times. He scored 100% availability each time "which, for the Waitrose assortment, is no mean feat."
The store has also hit "five consecutive years of growth, with a 10.4% increase last year on budget. There has been a 10% decrease in wastage. Pay is 2.2% below budget. Branch costs are 3.5% below budget. All that delivered a fantastic 22.1% increase in operating profit."
"We've got the set"
Sales-wise, Cheltenham rakes in the "third highest turnover" of all Waitrose stores in an area teeming with rivals. As well as the big four ("we've got the set") there is an Aldi , a Lidl , even a Whole Foods Market ("It's been open for two years but it hasn't had any impact on our sales at all. We thought it might, but…")
So, for aspiring store managers, what words of wisdom does he have? "It's important you become very commercial, and understand what customers want, both in range and how you merchandise it. Combine that with an understanding of how your colleagues work, and what they want to get out of their job. That way you can engage and motivate them."
As to the celebrations that followed his success, Snowdon admits: "We went celebrating around London, then carried on at the hotel into the early hours.
"I had a meeting the next day with all the other branch managers in the area. That was a struggle. But today I was back in the store and they are all delighted. It reflects so well on everyone. And it's because of them that I had a great story to tell."
Snapshot:
Age: 48
Status: Married to Sally. Two children - Hollie, 19, Alfie, 15
First-ever job: A weekend job at Ray Allen menswear in Darlington
First store manager job: Waitrose, Andover in 2000
Favourite Waitrose product: Dry aged ribeye steak from the meat counter
How do you relax: I love sport, I support Newcastle. The World Cup is going to dominate my life. I've backed England at 28/1, so I'm an optimist, but it will probably be Brazil that wins