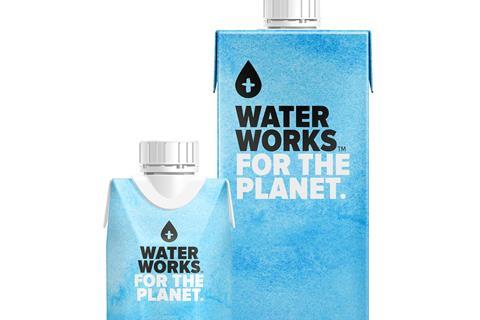 UK brand Water Works has launched a "planet-friendly" still spring water in a Tetra Pak carton sealed using a cap made from sugarcane.
Water Works for The Planet is available now through Cotswold Fayre, CLF, The Health Store, Aqua Amore and Amazon, in a 330ml single serve (rsp: 75p), with a one-litre variant (rsp: £1.49) set to follow in the summer.
By choosing to fill Tetra Pak cartons - which can be flat-packed - instead of bottles or cans, Water Works could send "multiple times more empty units in one truck", which reduced transportation emissions, said Water Works co-founder Ashil Vaghela.
The brand sourced local spring water, rather than filling abroad and shipping it over to the UK, which helped it "further reduce our impact on climate change," he added.
"I don't understand why we are consuming foreign water when we have perfectly good springs here in the UK. Our water tastes great and has a naturally balanced pH of 7.6."
Water Works also last month unveiled the third SKU in its functional water range – Aloe Coco, which "combines the hydrating benefits of coconut water and the soothing effects aloe vera".
Available in 330ml Tetra Pak cartons (£1.89), Aloe Coco has less than 5g of sugar per 100ml and contains "all natural" ingredients. It joins the brand's Cactus Water and Watermelon Water, which were launched via select wholesalers last year.
"We opted for a coconut water from the Philippines, which has a subtle yet pleasant flavour when compared to what is commonly available from Thailand," said Vaghela. "We fortified this with pulp-free aloe vera to create this tasty and nourishing functional beverage which we feel sits well within the ran