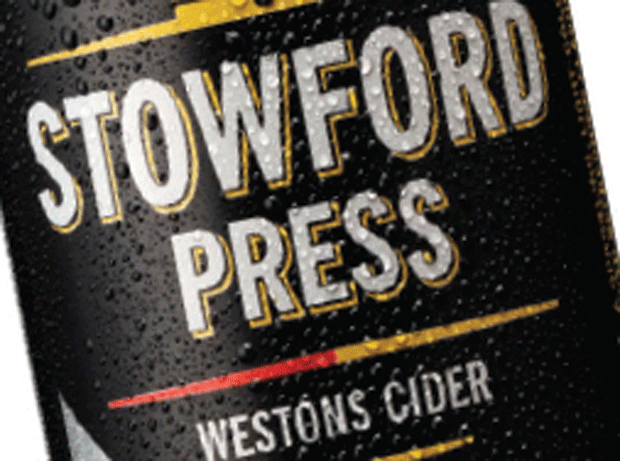 Westons Cider is spending more than £5.5m on its cider portfolio as it aims to double the size of the business over the next five years.
The Hereford-based cider producer is launching its biggest marketing investment to date on its Stowford Press brand, which it claims has seen growth of 25% over the last year. The £3.5m spend will include a new TV campaign running from May to September along with increased visibility at key events over the summer, such as the Bristol Balloon Festival and Jamie Oliver's Big Feastival.
The company is also investing a further £2m across the rest of its portfolio. Premium cider brand Henry Weston will benefit from increased ATL activity, which includes an on-pack promotion to support the Cheltenham Jazz Festival.
It is also adding a new mulled cider 2.25L bag-in-box sku into the off-trade in the autumn. "We've had requests from our grocery partners and have seen massive growth of mulled cider in the on-trade," marketing manager Ian Lewis said. "It will also help with cider's seasonality and extend cider's drinking occasions."
Digital activity is also being ramped up on organic cider brand Wyld Wood, which returned to growth in 2013 (+4%). Westons is ramping up its focus on educating consumers about organic cider to build brand awareness, supported by a targeted media spend, sampling and activity at events.
Traditional cloudy cider Old Rosie will also benefit from its first ATL campaign, targeting its core consumers through print media and events. "The brand has been gaining real traction with the off-trade as a result of its on-trade presence," Lewis said.
Off-trade sales of cider have risen, Westons said, with growth coming from the convenience channel, up 16% by value on volumes up 11.4% (IRI BWS Outlets, 1 March 2014). Off-trade activity currently accounts for around a third of cider sales, it said, but there has been a "gradual migration" from the on-trade, as more pubs close and consumers choose more premium drinks to drink at home.
The company says that volume growth across the portfolio has grown 20% over the last year, with value growth rising nearly 25%.
"There is still headroom in the off-trade," Lewis said. "We have a long-term aspiration to see the brand double and we're well positioned to do that."