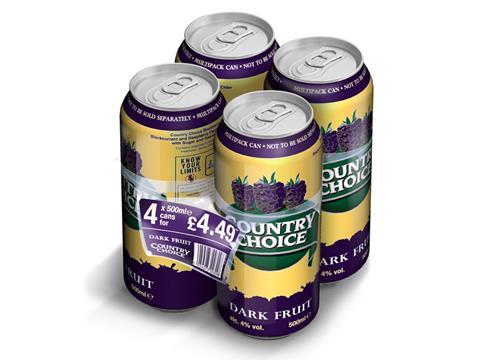 Bestway claims it has become the first UK wholesaler to launch own-label products into the booming fruit-flavoured cider category.
It is extending its Country Choice brand with Dark Fruit, a 4% abv blend of blueberries, blackcurrants and raspberries sold in a £4.49 price-marked multipack; and strawberry and lime, also 4% abv and sold in a 500ml glass bottle (rsp: £1.59). Both are available from this month.
Bestway said premium pricing was one of the barriers of entry into the fruit cider category, and believes a lower-priced alternative can bring new users into the category and help fuel further growth.
The wholesaler's licensed controller Roopinder Singh Toor added that nine of the top 20 cider lines - excluding high-strength ciders and large PET bottles - are fruit-based ciders rather than traditional apple.
"Customers have been enquiring when Country Choice was going to launch into the category," he said. "This tells us the time is right to launch. We were conscious not to introduce a whole raft of SKUs as we realise retailers' shelves are not elastic but to concentrate on offering a real alternative to the bestselling flavours from the major brands.
"However if we see that there is retail demand for other blends then we will introduce them and will work with our retail customers to ensure each product warrants inclusion on shelf."