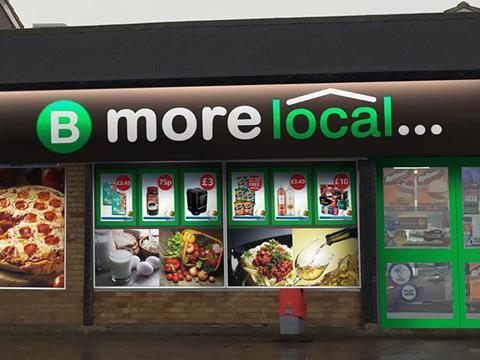 Blakemore has launched a new fascia for the convenience market called Bmorelocal.

The new fascia, which is available to fit now, was created in response to increasing demand from retail club members for a more premium fascia option.

Previously, Blakemore Retail Club only offered the Lifestyle Express fascia in partnership with Landmark Wholesale. Bmorelocal will carry higher criteria on store standards and will offer retailers an expanded chilled range alongside a stronger food-to-go proposition provided by Costa and Brakes-owned supplier Country Choice.

The three-year contract with Blakemore is free of charge, but the higher store standards required may mean retailers incur significant shop fitting costs, dependent on the individual store.

"There is a new contract that any store converting to Bmorelocal would have to sign and it demands more of the retailer - and in return offers more to them as well," said Blakemore Wholesale MD Russell Grant.

Two Bmorelocal stores, in Swansea and Grimsby, are due to open next month, and a further 20 have passed the initial store standards test to open this year.

Blakemore initially set a target of 30 Bmorelocal store openings by year end, but the company told The Grocer this figure was set to increase after initial interest levels surpassed expectations.

The wholesaler also revealed it would welcome retailers from outside the Blakemore catchment areas of Wales and the Midlands. It said the fascia could be suitable nationwide with support from its delivered wholesale network.

"Everybody who has seen it has been very enthused by it, and everyone is very excited for the two stores to open so they can physically go and see them up and running," said stores group director Nick Rose.