UK retailers are struggling to compete with Amazon, but until recently, wholesale has been relatively unscathed. But could the advent of Amazon Business change that? 
Amazon is the biggest threat facing UK wholesalers," was the stark warning delivered to the FWD conference in July.

The messenger was Foodservice Online MD Richard Fletcher, who went on to say Amazon was "in our space and taking market share".

Much has been made of the online giant's threat to food and drink retailers and we have seen various strategies from major UK grocers to combat this, from Tesco's now defunct Direct marketplace to Sainsbury's acquisition of Argos and the 'if you can't beat them, join them' approach of Morrisons.

But just how stark is the threat to UK wholesalers, and what are they doing to combat it?

One thing is for sure: wholesalers are worried. "In a recent survey FWD members, both suppliers and wholesalers identified Amazon as the biggest immediate threat to the wholesale sector, above even Brexit and the climate crisis," confirms FWD CEO James Bielby.

Fletcher's bombshell was largely based around the rapid growth of Amazon Business, a relatively new area which founder Jeff Bezos describes as "everything you love about Amazon but for work".

Amazon Business launched in the US in 2015 and made its UK bow two years later. It is now also available in Germany, Japan, India, France, Italy and Spain.

It's an online platform selling hundreds of millions of products to businesses - including those customers of traditional UK food and drink wholesalers.
"Wholesalers should not be complacent. It is imperative they use this time to get their houses in order in terms of improving the digital experience"
According to figures published in September last year in an Amazon blog, Amazon Business is growing twice as fast as Amazon Marketplace, its consumer equivalent, taking just three years to reach $10bn in annualised sales. Amazon Marketplace took seven years to reach that value.

Fletcher admits at the moment food and drink wholesalers are not the most vulnerable - wholesalers of stationery, office and computer supplies are most in the line of fire - but says catering operators are increasingly turning to Amazon Business.

This is particularly the case in the US, he says, citing research by Mirakl & Forrester that concluded Amazon was already having a huge impact on the foodservice industry there, singling out Brakes owner Sysco as one of the companies most at risk.

Fletcher is former MD of Cumbria-based foodservice operator Caterite. He explains that during his time there it began using AB to source computers, telephones and other electronics as well as general office supplies, before adding janitorial and warehouse equipment, and then niche food ingredients that were not easily available elsewhere.

It's not hard to see how this buying habit can spiral. One caterer we spoke to now uses Amazon for an increasing number of items he would have looked to an existing wholesaler for: as well as glassware, juicers, eco-friendly bin bags, tin openers, pizza trays, light bulbs, key safes and bottle openers, not to mention niche items including speciality gins, Asian ingredients, liquid smoke, syrups and cans.

But why use Amazon? "Massive choice, and very often goods are cheaper," he explains. "We can buy ingredients in smaller and more convenient sizes, and speed - requesting new products from our local supplier is time consuming. Accuracy of the delivery service is another factor, with very rare mistakes. Communication is instant and there are different logins for different employees with various permissions."

While Amazon Business still does not offer the full range of products most traditional wholesale customers will be looking for, argues Bestway Wholesale head of marketing Salih Sheikh, he's in no doubt the threat will emerge. "Wholesalers should not be complacent. It is imperative they use this time to get their houses in order in terms of improving the digital experience."
What is Amazon Business?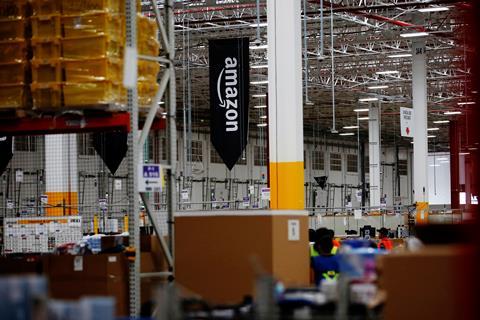 Amazon Business is an extension to the original Amazon Marketplace, but for businesses.
The division gives businesses access to 250 million products, 60% of which are sold by third-party sellers.
Amazon Business offers customers and sellers features designed for trade, including automatic VAT invoicing, a business analytics page to show sales or purchase histories, and an eligibility badge displayed next to the company name to show Amazon has vetted it.
There is also a unique function available to business customers: bartering. Customers can request sellers pledge their best offer in relation to whatever the large multi-purchase order happens to be.
So far it appears fairly straightforward, but it begins to get complicated when you take a closer look at the fee structure.
Amazon Business is an extension to its existing seller accounts, and while it is free to sign up to, the fees soon start to rack up once you begin selling.
A professional account comes with a monthly subscription fee of £25 and gives free rein to sell an unlimited amount of products without additional 'per item' fees. Alternatively, individuals can sell products without the monthly subscription, but pay 75p 'per item'.
Both types of sellers are then subjected to Amazon's 'referral fees', or Amazon's cut, on top.
Grocery and gourmet goods come with an 8% referral fee for the sale price of goods up to £10 and 15% above that. BWS is charged at 10% and foodservice goods 15%.
'Fulfilment by Amazon' is a service available at an additional cost and is the only way sellers can ensure their goods qualify for Amazon Prime. For £80 a month customers can become Amazon Business Prime members.
Sellers ship items in bulk to an Amazon fulfilment centre, where staff will pick, package and send each time an order is received. Andrew Selley, CEO of Bidfood, describes Amazon's cut as "a sizeable commission" which can eat into 25% to 30% of a product's margin.
Although Amazon Business is still in its infancy in the UK, it's worth taking a look at how the US has reacted to the new wholesale player. According to Amazon's figures two years down the line, AB had proven its worth, generating $1bn in sales and growing by 20% each month.
Jon Reily, former head of e-commerce at Amazon, identifies a key appointment within Amazon's top team which suggests Bezos' interest in the UK's B2B market is mounting.
A director reshuffle has seen Alexandre Gagnon reassigned from his position as Mexico & Canada VP to be placed in charge of Amazon Business. Reily says the shake-up is indication Bezos sees opportunities for significant growth.
This is particularly pertinent as a new generation of business owners and operators emerge, who are far more familiar with Amazon and Google than Booker or Bidfood.

Recent research from Mintel reveals nine out of 10 Brits (86%) shop on Amazon. Younger customers are proving to be the biggest fans, with 63% of 16 to 24-year-olds and 52% of 25 to 34-year-olds having access to its premium Prime service.

"We are in an interesting phase of the development of the market," says Bidfood CEO Andrew Selley. "There is no doubt the digital channel will become more important over the coming years, especially as the millennial generation become more influential in the customer base. What is not clear is how the market will work out in terms of B2C or B2B requirements, category differences, or indeed how the traditional wholesale and cash & carry channels will develop to meet the changing landscape."

He is determined not to lose out and to embrace new opportunity. This week, Bidfood launched online marketplace Catering2You.co.uk, though interestingly, Bidfood has also become a third-party seller on Amazon.

"We believe that for our business, and our customer demographic, Amazon represents a sizeable new opportunity for us," says Selley. "The onus is on all wholesalers to stay technologically and relationally relevant and progressive."

Bestway's Sheikh agrees. He suggests wholesalers should be looking to move their websites onto major IT platforms that can rival Amazon. The Grocer understands Brakes recently moved its site to SAP's Hybris platform, and Bestway is looking to move to a new Adobe platform in the next few months so as to be more nimble in competing against the vast digital teams upon which Amazon can call.

Sheikh also argues wholesalers need to ramp up investment in digital teams. "Traditionally wholesalers might have one or two people with responsibility for digital, and they will also have had marketing responsibility as well, so haven't been giving it the resources it needs," he says. Now optimisation of its website is taking place on a daily basis - making sure every product has the right image and product description, understanding why certain products are not appearing in search and why customers abandon orders.

JW Filshill is another wholesaler investing in e-commerce. In 2017, 40% of its orders were made online. This has since grown to 70% and it expects to hit 80% by the end of next year. Its 1,600 customers are increasingly choosing the app, website or auto ordering service which bases purchases on buying history.

Craig Brown, retail sales director, outlines the investment the ambient wholesaler has made across its digital IT and marketing team. "We have just completed work on our Keystore website and will be starting on the JW Filshill site soon. We will make it slicker, taking the best practices from businesses like Amazon."
Paid search
With the right digital approach, traditional wholesale can still hold its own. "Paid search is a big opportunity," says Sheikh. "If you Google phrases like 'products for restaurants' or 'foodservice products', Amazon is not among the first wave of suggested sites." In fact when you do this it brings up a number of major wholesalers: Brakes, Bidfood, Creed and Blakemore.

And there certainly remains a confidence among the wholesale sector that ultimately their specialist knowledge and expertise will continue to set them apart from generalists such as Amazon.

While using Amazon as a route to market, Bidfood's Selley believes it will find it hard to disrupt the foodservice market (see box), with traditional players offering a number of advantages, such as pricing ownership, special promotions, easily accessible customer service support, along with the added value of advice and assistance on how to grow and develop their business and their margins.
"If it was just about price then Amazon would win. But it is about all the extra elements that a good wholesaler can provide"
Sheikh agrees. "If it was just going to be about price then Amazon would win. But it is about all the extra elements that a good wholesaler can provide such as recipe ideas, menu planning advice and friendly, knowledgeable service."

"Wholesalers's advantage is their experience in distribution to a vast and diverse customer base, and all the support and added value such as trends and menu development that are an essential appeal in those established relationships," adds FWD's Bielby.

However, it would take a brave call to dismiss Amazon. As Jon Reily, a former head of e-commerce at Amazon and now head of global commerce strategy at Publicis Sapient points out: "Amazon has a lot of cash to support a category it does not know much about."

And while Amazon's inability to consolidate multiple purchases made by a customer into the same delivery van is a major hindrance, he admits, he wouldn't bet against Amazon solving this issue. "Amazon makes strategic investment into other companies in sectors it doesn't play in," says Reily. "Its investment in Deliveroo is a reflection of Amazon learning from companies how to do point to point deliveries in a distributed network in a quick fashion. Deliveroo is a great way to learn that."

Wholesalers, you have been warned.
If you can't beat 'em, join 'em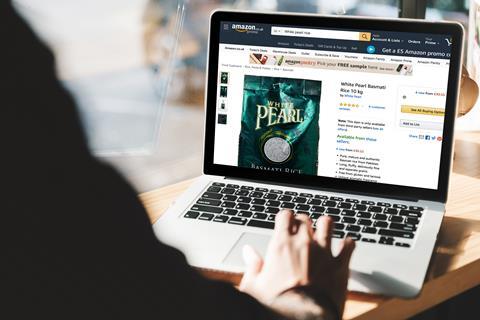 Morrisons did it - jumping into bed with Amazon to support the e-commerce giant's expansion into grocery retail. And grocery wholesalers are doing it too, adopting an 'if you can't beat them, join them' approach.
More than 1,000 own branded products from the Country Range Group (CRG), which counts wholesale stalwart Blakemore Foodservice and Henderson Foodservice among its members, are available to purchase on Amazon. CRG member Thomas Ridley Foodservice trades on Amazon using FoodServiceDirect as its marketplace name, listing more than 5,000 products, including CRG own label products
Booker has not partnered with Amazon, but its own label ranges have made it on to the website via other third party sellers. These include ambient and non-food catering supply products from the Chefs Larder, Chef's Essentials and Lichfields ranges.
Bestway sees Amazon as an extra sales channel for its own label White Pearl line, which is produced by a Bestway company and sold through supermarkets as well as its depots. It has been available on Amazon for direct sale to consumers for a number of years. Bestpets, the wholesaler's own label pet products, are also sold on Amazon through a different third party seller, in much the same way as at Booker's. "We don't proactively put the products on there, as we want to provide an element of exclusivity to pet retailers who shop with Bestway and sell our own-label products in their pet stores," explains Salih Sheikh, head of marketing at Bestway.
Sheikh warns that selling a core branded grocery range through Amazon would be "dangerous", however, and could lead to value being driven out of that sales channel. "The risk of prices being forced down by customers continuously selecting the cheapest seller could force price reductions.
Perhaps the most interesting developments, though, have come from Bidfood. Acknowledging a blurring of the lines in e-commerce between B2B and B2C, it this week launched web service Catering2You.co.uk. This will offer an initial range of 900 products, available to purchase without a membership or commitment to repeat sales, which differs from both a traditional wholesale approach and Amazon's Prime service.
As well as potentially competing against Amazon, Bidfood is stepping up its efforts to work alongside it, with CEO Andrew Selley seeing Amazon as "a key route to market" for many categories, to different types of consumer.
Later this month Bidfood will become a third party seller on the $323bn marketplace, using the 'fulfilment by Amazon' service to sell products on Prime. The plan is to sell a range of non-food items, packaging and dry grocery products.
"What is not clear at the moment is how that landscape will look at which categories are most popular via that commercial and logistical route, and also what customer base it will serve in terms of B2C versus B2B," he says. CEO Andrew Selley is still sceptical, though, about Amazon's potential to disrupt. "Amazon sells mostly through third-party resellers and so doesn't directly control prices, and in terms of service, I see no great advantage over delivered wholesale currently. "For small orders, or as an alternative to collection, there may be an advantage, but if you consider the delivered wholesale offering in foodservice I believe it is hard to disrupt."