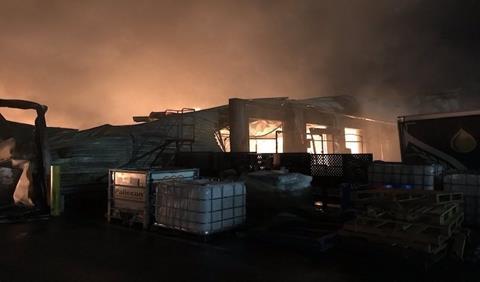 Sugar and dairy products distributor Kent Foods' flagship depot has been destroyed by a fire.
The state-of-the-art custom-built 73,000 sqft.warehouse based in Basildon, Essex was devastated on 29 August as 100 firefighters fought to put out the blaze.
The depot was opened in 2015 and housed the company's chocolate compounding machine, along with ambient, chilled and frozen storage facilities with an office.
The cause of the fire is now under investigation by Essex County Fire & Rescue.
Contingency plans have been put in place in a bid to minimise customer disruption, utilising its Bristol and Leeds depots.
"The news that no one was injured during this fire is most welcome," said Kent Foods chairman Iain Dalglish. "Our staff have moved quickly to transfer operations to our five other depots ensuring that disruption to customers will be minimal, if any, whilst several suppliers have interrupted their bank holiday to ensure we are quickly restocked. I am grateful to them all for the resilience they have shown.
"We have formed a taskforce to liaise with our Basildon colleagues with a view to minimising the impact upon them until we can rebuild or establish a new base in the Essex area.
"We are grateful to Essex County Fire & Rescue for their professionalism in the face of a challenging fire and to the Environment Agency and Anglian Water for reacting quickly to assist us in minimising any damage to the environment."