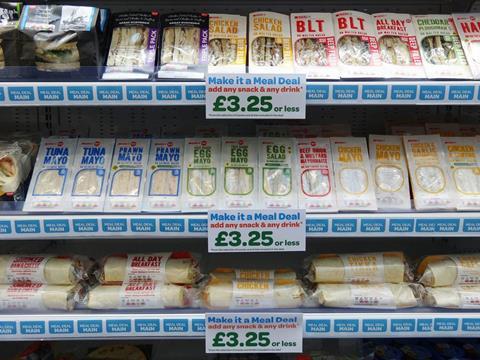 James Hall has completely overhauled its lunchtime offer with a new meal deal and new products, including sushi by Japanese restaurant chain Samsi.

The Spar wholesaler has expanded the range to 34 products - 22 of which are either new or reformulated.

Some 40% of the products have 360 calories or less, and 21 contain no pork. As part of the revamp, packaging has also been updated with calorie content and traffic lights moved to the front of packs. Three Spar-branded snack salads have been introduced, as well as a new range of fruit pots and two new snack bags.

The new meal deal includes a main, drink and snack for £3.25. The main covers Spar and Great Northern sandwiches, wraps, bloomers or triples as well as pasta salads, snack salads and sushi. The Express Cuisine Halal food range has also been included.

The initial sushi range comprises an eight-piece vegetarian and an eight-piece fish range (rsp: £2); and an eight piece norimaki with two additional nigiri (rsp: £2.50).

Sales and marketing director Peter Dodding said, on sandwiches alone, the business was worth £10m at retail. "Our participation rates for the meal deals are already enormous - in 25% of our Spar stores they hit more than 30% of total sales - but it's important we freshen things up so that we can keep on staying ahead of the market," he added.

On the new sushi range, Dodding said: "We are thrilled to have teamed up with the team at Samsi to help our retailers offer something different for shoppers' mealtimes. The quality is fantastic, and I'm confident this new addition will be a great success. We expect to add more products to our sushi range soon."

James Hall said the new range and meal deal would be fully available in stores by mid-April.