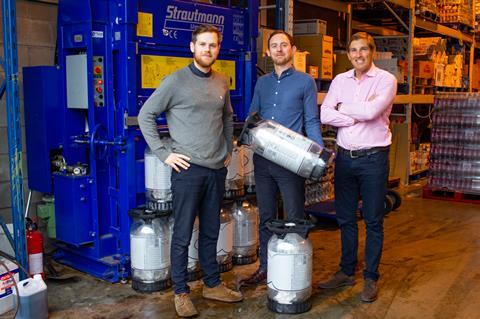 Manchester-based wholesaler WDS Group has said a new recycling scheme is helping it attract new customers as well as preventing tonnes of plastic going to landfill.
The family-run drinks wholesaler has devised a closed-loop recycling programme for the bars, restaurants, cafés and delis to which it supplies KeyKegs.

An average of 600 empty craft beer and wine containers are collected by the delivered wholesale business each week, crushed in a bailing machine in its depot and returned to the manufacturer, Lightweight Containers, to be reformulated.

Operations director Steven Evans said four or five new customers were coming on board each week thanks to the new service, adding to its current 600-strong customer base. This was helping grow its weekly turnover, which was up 8%.

Since the initiative began in May, the wholesaler has collected and recycled 7,000 KeyKegs, which equates to 12 tonnes of plastic kept from landfill.

WDS offers the KeyKeg collection service free of charge to its customers, or £10 to collect 10 KeyKegs from non-customers.

"We are generating around five new customers every week, which can be put down to the fact they can get their KeyKegs recycled free of charge. It has become our most effective sales rep," explained Evans. "The average spend per order is £500 so you can see how much business the machine is generating. It's been very popular, more and more people are using us for this service. We are seeing more and more customers come on board all the time,"

Evans also said the company was pushing glass bottles and offering customers alternatives to plastic where it could. He said glass was "the fastest-growing part of our business."

The wholesaler is on track to almost double its turnover this year to £5m, exceeding its original target of £4m, up from £2.6m the previous year. This has been partly driven by the acquisition of Snax Direct earlier this year.

It is set to move from its current 6,000 sq ft depot in Bury to a new 14,000 sq ft site nearby next week.