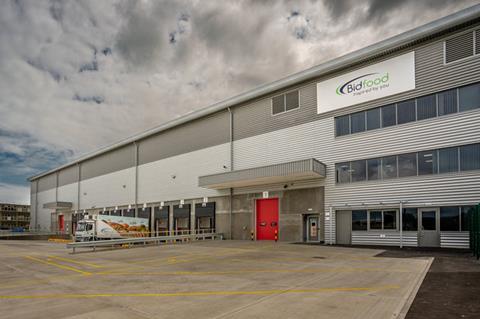 The distributor closed its refrigerated warehouse in Bolton this month

CEO Andrew Selley said it was highly unlikely business would return to the trading levels prior to lockdown
Bidfood is set to become the second major wholesaler to make sweeping redundancies across its business this week, amid warnings 10,000 wholesale jobs could be lost in the coming months.
On Monday Brakes, which employs over 6,500 staff, announced at least 300 jobs could go in response to the coronavirus crisis.
The Grocer now understands hundreds of jobs are at risk as Bidfood, which employs 5,400 staff, looks to restructure, with up to 150 employees from Bidfood fruit & vegetable subsidiary Oliver Kay Produce in Bolton entering into a 45-day redundancy consultation period this week.
It comes as the distributor closed its Bolton refrigerated warehouse, transferring all business to its larger depot in Bradford this month.
A further 200 employees from Bidfood's Elite Fine Foods business, acquired last year, are also understood to be at risk of redundancy.
Bidfood CEO Andrew Selley told The Grocer the extended restrictions placed on customers, together with uncertainty about how quickly the market would bounce back, meant it was highly unlikely business would return to the trading levels prior to lockdown for the foreseeable future.
"Covid-19 has had a devastating effect on the hospitality industry and the foodservice distributors that supply it," said Selley. "During this time, Bidfood has attempted to offset some of this impact by offering home delivery and click & collect services to consumers, and by delivering government care packs to the vulnerable. We are reluctantly considering proposals to restructure our business, ensuring that we remain agile and able to respond to our customers' changing needs. Whilst we are unable to sustain our team at its current size, we remain focused on service excellence, making our customers' lives easier, helping them to rebuild and grow, whilst continuing to provide great value.
"We understand that this process will be a very unsettling time for our colleagues, and we could have never predicted that these are the steps we would find ourselves having to consider after the loyalty, hard work and co-operation that each and every one of them has shown, especially in recent months.
"We take the future of our employees very seriously, and are committed to preserving the employment of as many people as possible. We're working closely with trade unions and elected employee representatives to look at ways of avoiding, mitigating and reducing the impact of any changes, and we will do all we can to support them throughout this process."
The moves by Bidfood and Brakes come as Unitas MD Darren Goldney warned that up to 10,000 jobs could be lost across foodservice and on-trade wholesalers from August.
He is urgently calling on the government to reduce the current two-metre social distancing guidance to help the hospitality sector and its suppliers, as well as extending business rates relief to wholesalers.
"There is now a groundswell of anger at the lack of action and support from government," he said. "It is wrong that wholesale customers receive grants and business rates relief and competitors in retail have enjoyed business rate relief. An outrageous example of this is the reported £600m in rates relief currently benefiting Tesco where sales have increased as a result of Covid-19,
"Our hospitality members, who lost their customers overnight, are still paying £7m in business rates. How can this be right when Tesco is currently benefiting from £600m in rates relief while its sales increased?
"We believe more than 10,000 employees in wholesale overall are at risk. In the Unitas membership, consultations have started in many members' businesses. Many are now beginning the process as the clock ticks down to the end of July when furlough support reduces.
"But it's not too late. If the government granted the same business rates relief to wholesalers as other sectors this would buy wholesalers time to make considered decisions rather than knee-jerk reactions to situations that have life-changing impact. A one-metre versus two-metre decision would also probably delay and hopefully avoid these decisions altogether."