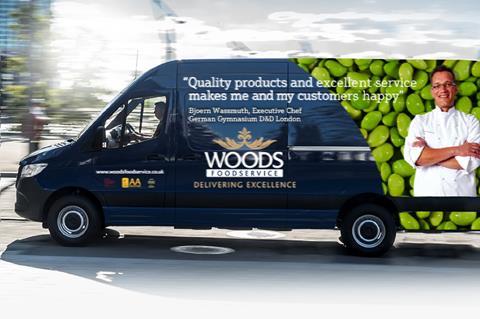 Woods Foodservice has acquired a new depot to expand its new fresh produce division.
The London-based foodservice wholesaler, which distributes predominantly into Michelin-starred restaurants and high-end hotels, has increased its storage capacity by a third to 41000 sq ft to house the new stock.
The unit, which is on same Uxbridge industrial estate as its existing warehouse, will be fitted out with state-of-the-art chillers to accommodate the high-end produce, which includes truffles and edible flowers.
It comes after the business expanded its offer from dry store goods and dairy following the collapse of fine foods greengrocer Mash Purveyors in 2020.
As a result, many of Woods Foodservice's customer base were left without a fresh produce supplier and consequently it made the decision to diversify in order to meet the demand.
The Confex member has seen weekly turnover increase from £20k during the first month of launching the new range in August 2020 and rose to £50k a week just before the latest English lockdown in January.
Woods Foodservice MD Darren Labbett told The Grocer that the company, which turned over £19m for the year ending 30 April 2020, was now preparing for a "boom" in sales from 17 May, expecting fresh sales to hit £2.5m for the first year.
"We expect it to be exceptionally busy between now and Christmas," said Labbett. "The opportunity presented itself to get into this space and we took it after having this move in the pipeline for several years. We informed our customers that we now cover fresh and between lockdowns we have been absolutely stunned with how well it has taken off."
The expansion comes despite the wholesaler furloughing the bulk of its 112 staff for the majority of 2020 and operating at 25% of its usual monthly turnover. The headcount has reduced to 80 staff, but Labbett is currently recruiting ahead of the full hospitality reopening on 17 May, adding 10 employees in the past week.
In December, Labbett told The Grocer he was prepared to go to prison rather than pay business rates after the hospitality industry had been made exempt to the tax but wholesalers had been "shunned". Hillingdon Council has since agreed to waive business rates for the company until clarity and directions surrounding the £1.5bn 'material change of circumstance' grant have been announced.