Alec Mattinson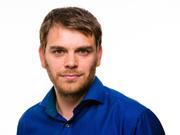 Alec leads The Grocer's expanding coverage of all things finance-related.
Contact Info
Tel:

01293 610512

Email:
Recent stories
The owner of jam and marmalade maker Tiptree has reported a reduction in full-year gross profitability as the post-Brexit rise in input costs hit its margins.

Coca-Cola's first quarter earnings dropped by 20% amid a double-digit sales decline and high than expected costs relating to the restructuring of its bottling operations.

Annual pre-tax profits were up 6.2% at leisure group Whitbread as 10.7% total growth in its Costa Coffee chain boosted performance - however the shares have plunged as the group undershot City expectations

Media Bites 25 April: Whole Foods, M&S, BHS

Subscription

UK retail sales slump as inflation bites

Subscription

Media Bites 21 April: Unilever, M&S, Diageo

Subscription
Recent blog posts
It turned out the roasting of the Tesco board at today's AGM was more of a light grilling

Investors must be concerned about the lack of clarity over when Tesco expects its strategy to bring returns.

Never mind what this week's figures reval, Tesco is still a fundamentally strong business.
Alec Mattinson contributes to: