Is Portman ruling on Jody Scheckter Laverstoke label intelligent self regulation or childish?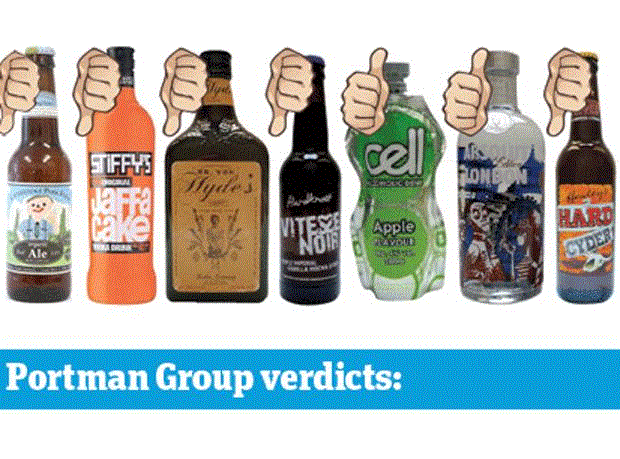 Jody Scheckter has vowed to fight a Portman Group ruling banning the use of his crayon drawing label for his Laverstoke Park ales. Was the Portman Group right to veto the labels? Read all about the case. Plus: tell us which of the recent Portman Group rulings you agree with in our online poll
While any number of brands may appear to have a marketing strategy developed by a four-year-old armed only with a box of crayons, Jody Scheckter is probably the only producer to be able to claim it was deliberate.

A decade ago, the former Formula One driver's young son drew a picture of his dad in the green wellies and overalls that Scheckter wears on his Laverstoke Park Farm estate in Hampshire.

The drawing, renamed 'Mr Laverstoke', became part of the branding for the estate's entire range of organic and biodynamic food and drink products, appearing on everything from beef joints and buffalo milk to ales and ice creams.

But five years after launching an ale and a lager, and with 170,000 bottles sold without question, a single anonymous complaint from a member of the public has prompted the Portman Group - the industry-funded alcohol watchdog - to rule that the cartoon character's use on alcoholic products breaches the group's voluntary code.

While the Portman Group's rulings have no legal force, they carry great weight: issuing a Retailer Alert Bulletin (RAB) to retailers, police licensing officers, Trading Standards officers, licensing magistrates and other interested parties, retailers are unlikely to flout its guidance, and keen to demonstrate self-regulation works.

But the decision has left Scheckter furious at what he sees as political correctness gone mad. And he has promised to fight the Portman Group, despite the potentially crippling costs.

Scheckter, winner of the F1 World Drivers Championship in 1979, claims the views expressed by the panel - that the logo "would be likely to have a particular appeal to younger children" was "nonsensical" and "without foundation".

"This reaction to products that have been on sale for almost five years and sold over 170,000 bottles versus a single complaint seems excessive to say the least," he wrote, in a letter to the Portman Group.

"No retailers have reported problems with under 18s attempting to buy Laverstoke ale or lager.

The beers have been bought by experienced buyers at major retailers/supermarkets who would be fully aware of the Portman Group Code, and are very responsive to the problem of young people and the potential for underage drinking issues."

With listings in Sainsbury's, Waitrose, Ocado and internationally through Whole Foods Market in the US, Scheckter faces an expensive rebranding of the entire range, and accused the Portman Group - which is funded by industry giants such as Diageo, AB InBev, C&C and Pernod Ricard - of picking unfairly on small producers.

"We don't sell anything to children," he says. "We sell expensive organic produce."

"I don't think anyone in their right mind believes four-year-olds will want to drink beer because of our label," claims Scheckter

He also contrasts the ruling against his brand with the Portman panel's decision, in September, to reject a complaint against Pernod-Ricard's Absolut vodka brand, which used images by comic artist Jamie Hewlett.

"The big boys want to show that they are doing something [about underage drinking], and so they're going after the small people," said Scheckter.

Scheckter's view that he has been singled out for unfair treatment by the Portman Group is nothing new.

As long ago as 1996, Carlsberg bemoaned the fact that its short-lived alcoholic jelly brand Thickhead had "become a totem for unfair criticism" of the then-booming RTD category, after the brand's marketing attracted the attention of the watchdog.

Illustrated characters

A trawl of the supermarket drinks aisle today shows illustrated characters are not uncommon on alcohol brands, but deciding which appeal to under-18s is tricky.

Do the iconic imp and the bearded warrior on Wychwood's Hobgoblin and Ginger Beard brands send a message to pubescent World of Warcraft enthusiasts? Which is more likely to attract teenage boys to a life of rum drinking: the piratical Captain Morgan or the underdressed South Sea island lady holding a strategic ukelele on bottles of Sailor Jerry's Spiced?

While the Portman Group would not comment on the specifics of the panel's ruling in advance of publication, chief executive Henry Ashworth confirmed "the use of a child's drawing on the label of Laverstoke's alcoholic products - the same image that is used on the labels of Laverstoke's apple juice products - was the basis of the complaint."

He added that the group "is compelled to bring complaints by members of the public to the attention of the Independent Complaints Panel," and insisted "no producer is exempt from the rules of the code."

"The panel is entirely independent from the alcoholic drinks industry and is chaired by the former director general of the Prison Service, Sir Richard Tilt," he says. "Members are recruited to the Panel through an open and transparent process led by the chair."

Horrible

Scheckter insists he won't voluntarily change the labelling, other than by possibly removing the beer from Mr Laverstoke's hand.

"If I thought there was any justification in what they said, I would be willing to work with them - but it's my logo, and the beer has been out there for five years," he says.

"It's horrible that they're trying to attack the little guy, because most little guys would absolutely crumble. I'm stupid enough not to."

But while his position, and his fame, are sure to win support, it will not be universal. Andrew Mulholland, executive client services director at brand consultancy The Gild said there was "a big difference between liking the label visually - and I do - versus whether it's a good idea - and it isn't. It's precisely because it has a visual link with the rest of the range that makes it dangerous.

"There's a reason organisations often adopt different brand architectures when targeting adults or kids. It would be intellectually lazy to relax the rules for a small independent. How you would feel if a large multinational took this stance?"
Portman Group verdicts:
Upheld:
Oct 2012: Laverstoke Park Ale: label likely to appeal to younger children (ruling on 29th Oct 2012)
June 2012: Dr Von Hyde's Herbal Liqueur: medical claims
April 2012: Vitesse Noir beer: stimulation claims
Feb 2012: Healey's Hard Cyder: strength a key theme
Nov 2011: Stiffy's liqueurs: linked to sexual success
Rejected:
Sept 2012: Absolut London campaign: cleared of appealing to under-18s
August 2012: Cell Drinks' vodka-based, ready-to-drink pouches: foil packaging judged not to unduly appeal to children
Was the Portman Group right to censor Laverstoke Park?