'Promotions are the best way to get product in trolleys'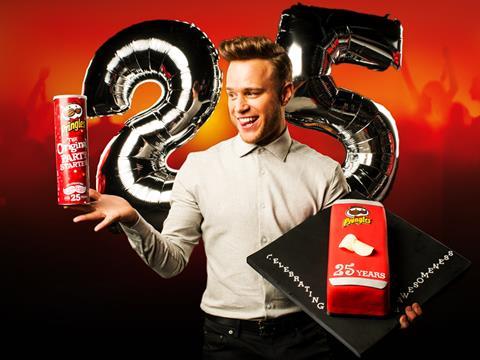 Last year: 32 ▲
Sales: £190.5m (-2.6%)
---
Brits lived up to the slogan 'Once you pop you can't stop', scoffing an extra six million tubes of Pringles over the past year. These significant volume gains came at the cost of value, with brand owner Kellogg's heavy focus on promotions dragging the average price per unit down 6.3%.

"Snack foods are purchased on impulse, they are not planned purchases by the shopper," says Clare Furlonger, Kellogg's UK&I commercial director, snacks. "Promotions are the best way to drive feature and disrupt shoppers on their trip, and get your product in the trolley."

Hitting the key price points (190g is currently on deal in Asda, down from £1.50) could become tougher in the coming year as potato prices start to rise from the historic lows of the past couple of years.

Pringles was quiet on the NPD front, instead choosing to focus promotionally on the 2015 hit Pringles Tortillas, with the brand's 25th anniversary featuring limited-edition party themed Tortillas cans. Singer Olly Murs was brought in for the celebrations through a Party with Pringles promotion in which consumers were offered the chance to win exclusive tickets to a private gig as well as 'meet and greets' with the star.

"The 25th Anniversary was by far our most successful promotion over Easter ever," adds Furlonger. "By partnering with Olly Murs we were able to tap into our social connectors with relevance and also drive interest to purchase at retail."

Kellogg's also tapped into the big night in occasion with a Pringles Movie Night campaign, allowing consumers to claim a free movie.