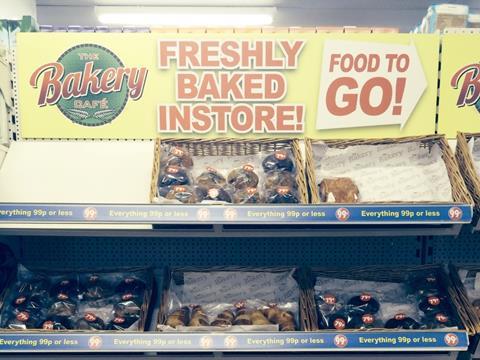 Single price discounter 99p Stores has opened a new concept store featuring an in-store bakery and coffee to go.
At the opening of its 250th store yesterday in Northampton, the retailer told The Grocer it was looking to push further into the mainstream market.
99p Stores' bakery concept: in pictures
The bakery has been developed with Delice de France, whose bakers are running the operation for the first few days before handing it over to 99p Store staff. Products range from baguettes to pain au chocolat and deals on offer will include a coffee and pastry for £1.59. Hot drinks include cappuccinos, lattes and hot chocolate, which will all retail for 99p.
The new store design features sleeker flooring, more spacious aisles and improved lighting.
The retailer has also implemented a new queue management system. Rather than having tills at the entrance to the shop, they are placed at one side of the store, opening up opportunities to impulse buy while queueing. "We found with the old queueing system that queues would form and clog up the aisles. Hopefully this will manage the queues far better," said chief operating officer Tony Brown.
Brown said the retailer planned to open many more stores this year but would not confirm a figure. However he added that it was also heavily engaged in refitting existing sites, with some 60 sites expected to be revamped between now and Christmas. The refits will include many of the new features shown off in Northampton.
"99p Stores are no longer completely price driven: they're about the product, ambience, the store. Although we're a single price store we're becoming mainstream and we're doing that by creating a type of convenience store," said Brown. "Chilled cabinets are a major part of the 99p store experience now. They're not tucked away but have a prominent position in the store and are full of sandwiches, drinks, meats, cheeses and yoghurts."