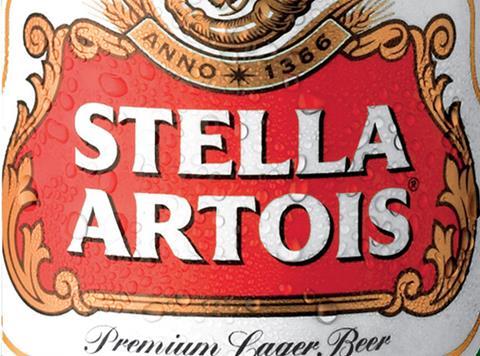 Beer bottles from brands such as Stella Artois and Budweiser will soon carry detailed calorie information, following a major commitment to on-pack calorie labelling from AB InBev.

Calorie information will be given both per 100ml and by portion size on individual bottles; in multipacks, secondary packaging will include the full 'big seven' nutritional stats: energy, fat, saturated fat, carbohydrates, sugar, protein and salt.
In addition, AB InBev is also adding ingredients lists to all its UK packs. At present, ingredients are only specified on Stella packs.
The new labels are rolling out later this year and would be in place on at least 80% of European volumes by the end of 2017, the company said. AB InBev's commitment to calorie labelling initially applies to existing AB InBev brands only and not brands acquired as part of the recent SAB Miller deal. The company will, however, aim to have all its products covered by 2018, a spokesman said.
The move means AB InBev UK is going above and beyond the pledge made by industry body Brewers of Europe, whose members have agreed to provide full information on ingredients, energy and nutritional values per 100ml either on label and/or online.

AB InBev said its research found many consumers were interested in the calorie content of their drinks but few knew the calorie count of different drinks: 35% of UK consumers surveyed for the supplier by IPSOS Mori said they actively looked for the calorie information of their drinks, rising to 48% of 18 to 29-year-olds - the largest percentage in Europe. But less than one in five of those surveyed claimed to be aware of the calorie levels in beer.

"Consumers are getting savvier about their daily calorie consumption and are actively looking at nutritional information," said Anna Tolley, AB InBev's UK legal and corporate affairs director. "While the EU continues to discuss the best way forward for nutritional labelling in our industry, we want to give consumers the information they need at their fingertips to make well informed choices and enjoy our products responsibly."

The announcement follows moves from Diageo, which last March said it would put "per serve" calorie information on its packaging, and Treasury Wine Estates, which in December revealed plans to provide the information online and include a dedicated web address on its bottles. Sainsbury's introduced calorie information on 20 of its own-label wines back in 2014.

Last May, MEPs overwhelmingly backed plans for mandatory calorie labelling of alcoholic drinks. An October 2014 poll by the Royal Society of Public Health found that two thirds of UK adults would support such a move.