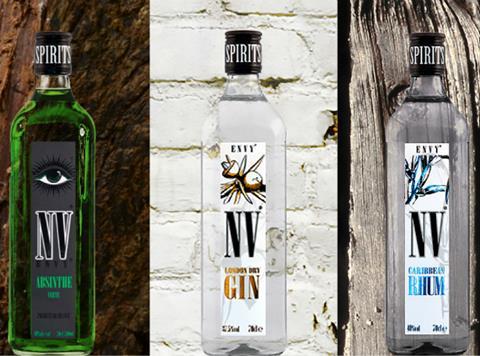 La Fée has expanded its drinks portfolio with a base spirits quartet that will sit alongside its Absinthe drink as one unified mainstream Envy & NV brand.

The four new drinks, available now, comprise Caribbean White Rhum (rsp: £16.25/70cl) and Scottish Blended Whisky (rsp: £17.25/70cl) - both 40% abv, alongside a Triple Distilled French Vodka and a London Dry Gin - both 37.5% abv and priced £15.85 per 70cl bottle.

Positioned as a "quality affordable" offering, the quartet joined the brand's established French Absinthe on shelf - featuring a "simple and modern" look - and formed part of a strategy to "push the brand to the next level" said La Fée owner and MD George Rowley.

"The brand has effectively been seeded in the market via Absinthe during the last 10 years, and now the time is right to unlock its value to invest funds in global marketing and continue to challenge the mainstream marketplace with our rapidly scalable business at every step," he said.

Production and bottling of the new drinks began in April 2016, but the idea was formed in 2007 when La Fée took the first step from premium to mainstream with its low-strength NV Absinthe, said Rowley.

To attract investment in the brand, the business is launching a crowdfunding initiative within the next six months and will be releasing 10% equity, with further releases in subsequent years.