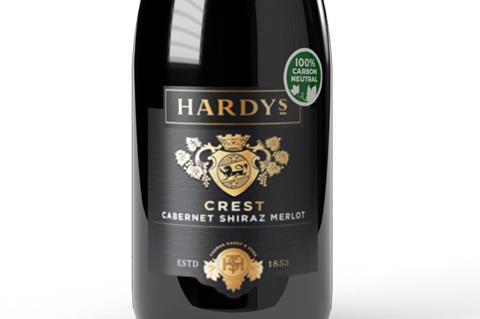 Accolade Wines' core wine range is now carbon neutral, the wine giant unveiled today.
Its biggest brands – including Hardys, Mud House, Jam Shed, Kumala, Banrock Station and Echo Falls – have all been certified carbon neutral by the Carbon Trust, with Accolade hoping to reach 100% portfolio neutrality by the end of the year.
It achieved the certification by making major investments in on-site renewable energy, including solar panel installation at one of its Australian vineyards, and the installation last year of a massive wind turbine at its UK manufacturing site, The Park.
It has also introduced lighter weight bottles for Echo Falls and Hardys this year, reducing their glass-related carbon footprint, and boosted the recyclable material used in its Wine on Tap formats.
Accolade has also teamed up with sustainability business ClimateCare to help offset the remaining emissions across its business. It has contributed to projects such as the Yarra Yarra Biodiversity Corridor, which helps to restore ecosystems and preserve threatened and unique flora and fauna in Australia.
"Companies have to act on their carbon footprint for the sake of the planet and we want Accolade Wines Europe to set a positive example that we hope the rest of the industry follows," said Accolade Wines Europe MD Caroline Thompson-Hill.
The business will play up its new carbon-neutral credentials on packs, and with in-store and digital marketing, starting from January 2021.