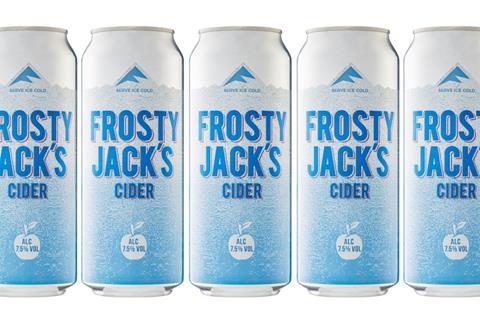 Aston Manor Cider has given Frosty Jack's a major makeover.
It has given the notorious brand a "contemporary" redesign it said would help recruit new drinkers, and has switched its larger format SKUs from three-litre PET bottles to 2.5l bottles, which Aston Manor claims would remove 22 million units from the market annually.
The brand had "introduced significant changes this year – from the reduction in bottle size to the recycled content in the packaging – to ensure it is leading the industry on sustainability issues. We are delighted with how the new look embodies our forward-thinking nature.
"This also supports our objective for Frosty Jack's to be less reliant on larger packaging formats. Consumer preference has been shifting to smaller packs recently, which is demonstrated as Frosty Jack's in cans are in double digit growth, and we expect this investment to accelerate that progress."
It comes as the cidermaker's latest financials show sales were up 5% over the year to 31 December 2018 – although profits plunged 70% to £2.1m, as the business was hit by one-off costs related to its sale to Florette owner Agrial.