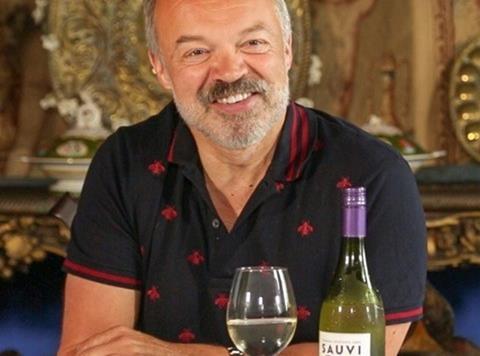 Newly-launched distributor Benchmark Drinks has secured UK and Ireland rights to Graham Norton's wine brand.
The Graham Norton brand, produced by New Zealand winemakers Invivo, has switched from former Conviviality business PLB (part of Bibendum) to Benchmark, which was founded earlier this year by former Accolade Wines CEO Paul Schaafsma, who left his job as boss of Broadland Wineries in January to set up his own business.
The Graham Norton range includes sauvignon blanc, shiraz, rosé and prosecco variants, and currently has listings in Tesco, Majestic and Asda. Invivo was "enthusiastic about the opportunities in the market" said its co-founder Tim Lightbourne. "We're looking forward to working with Benchmark and taking the Graham Norton brand to the next level in the UK and Ireland."
Benchmark and Invivo had "a shared passion for innovation and building market-leading brands" said Schaafsma. "Our ambition over the next three years is to continue the exciting and positive momentum of the Graham Norton wines. They have immediate appeal because there's a confidence and a familiarity that consumers trust."
Schaafsma has enlisted three ex-Accolade senior executives: Amy White, who was marketing director, Andy Cameron, who was head of supermarkets, and Ian Anderson, who was GM for strategic development. They joined Broadland when Schaafsma was appointed its CEO and followed him to Benchmark.
"We have a combined 50 years of experience in the trade between us," Schaafsma said. "So, we're in a position where we can hit the ground running."