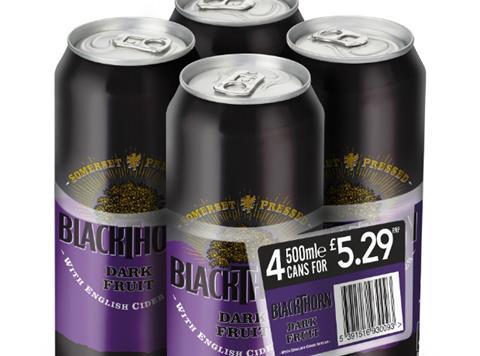 C&C Group has expanded its Blackthorn Cider range with two products.
The duo, available from the impulse channel now, comprises a 4% abv Blackthorn Dark Fruit (rsp: £5.29/4x500ml can) alongside a 7.5% abv Blackthorn Super cider (rsp: 99p/500ml can). The former NPD, a blend of blackcurrants and blackberries, features a "deep fruity flavour", while the latter is made with bittersweet apples delivering a "medium-dry crisp taste", said the brewer.
The new drinks would "enrich parts of the cider category" in which retailers were looking for "credible alternatives to current options", claimed C&C marketing manager Amy Burns.
"Blackthorn is a brand recognised for its quality and good value, and we are excited to be expanding the range."
C&C gave Blackthorn Cider an overhaul in August last year in a bid to reposition it as a more premium product, including the launch of 5.5% abv Blackthorn Reserve. Other tipples in the portfolio include the 5% abv dry cider Blackthorn Dry and the 4% abv dark fruit Black 'n Black.