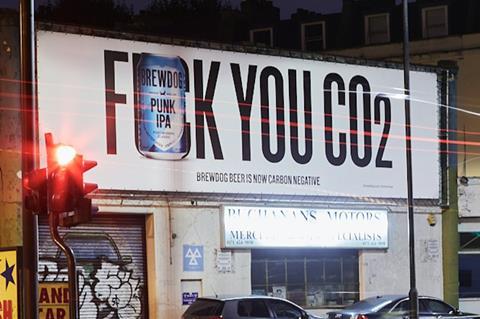 BrewDog has blasted the ASA after the ad watchdog ruled against its ads for using profanity where children could potentially see it.
The ads, which read "F**k You C02" and touted the brand's carbon-negative credentials, ran across billboards in London, Newcastle and Glasgow, alongside identical double-page ads in The Metro, The Week and The Economist.
A complainant challenged whether the text was offensive and inappropriate for display in a medium where it could be seen by children, in both outdoor posters and the magazine ads.
The watchdog ruled that BrewDog's posters were "likely to cause serious and widespread offence" and thus "not appropriate for display in untargeted media" and said it must not appear again in the form complained of.
It further ruled the ads were not suitable to be displayed in The Metro because "as a widely available, free newspaper, the ad was untargeted".
However, it took no action against the ads in The Week and The Economist. "While some readers might have found it distasteful, we considered it was unlikely to cause serious or widespread offence in those publications," it said.
BrewDog responded with outrage.
"Today the Advertising Standards Authority banned our activism advert," said its co-founder and CEO James Watt. "The ASA can go f**k themselves. We are in the midst of an existential climate crisis.
"Thank you to the Metro, The Week, The Economist and billboard sites for understanding the importance of our Carbon Negative campaign."
BrewDog made headlines earlier this year when it went completely carbon neutral. The brand has been a vocal backer of immediate action on climate change, and is currently splashing out on "a climate action programme of initiatives that represent over £30million worth of green investments", it said.
It's not the first time BrewDog has gone to war with a watchdog. In 2014 Watt famously called out The Portman Group as "a gloomy gaggle of killjoy jobsworths" who treated beer drinkers like "brain dead zombies and vilify creativity and competition" after the group said its Dead Pony CLub ale's packagin breached alcohol marketing rules.