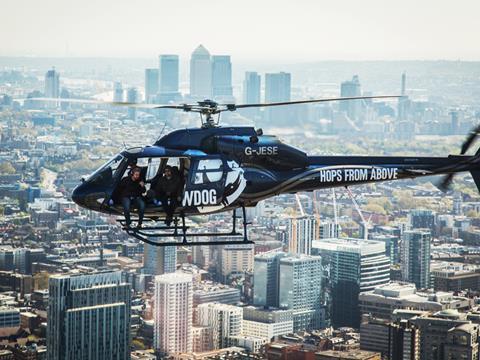 BrewDog is releasing its entire back catalogue of more than 200 beer recipes to the public.
The recipes will be scaled down to homebrew volumes, five gallons or 20 litres – which would both hark back to the company's homebrew origins and inspire the next wave of craft brewers, BrewDog said.
Named DIY Dog, the recipe collection will include the brand's flagship Punk IPA and other popular beers such as Dead Pony Club and Five AM Saint – along with lesser known brews Hops Kill Nazis, Black Tokyo Horizon and Anarchist Alchemist. It will also cover the 32% abv Tactical Nuclear Penguin, 41% Sink The Bismarck, and 55% End of History – each of which, at the time of release, claimed the title of 'world's strongest beer'.
"Many of the classic BrewDog beers were developed during our homebrewing days, and we still use a homebrewing 50-litre system to develop new beers and recipes," said co-founder James Watt.
"The more people that home brew, the more craft breweries will pop up and help us in the fight against global mega beer corporations, making the future brighter for craft beer."
BrewDog said the move was unprecedented – a claim supported by Mintel senior drinks analyst Chris Wisson. "We've seen similar kinds of things in other markets – such as McDonalds 'Ask us anything' campaign – but nothing quite like this," he said. "It's certainly comprehensive and is a really interesting document.
"Some of these hops are going to be really hard to obtain for many home brewers given the waiting times and high costs for many of the big American varieties - plus I'd imagine that only very skilled home brewers could get close to replicating the actual versions. But it's a great idea, very well executed and goes to the heart of what craft is: transparency and integrity."
Brewdog's Punk IPA more than doubled its off-licence sales last year to £6.2m. The beer is now one of the UK's top 20 ales, and the biggest contemporary craft beer by some distance. The company topped The Grocer's Fast 50 list of fastest growing fmcg companies for the second year in a row in November, thanks to its 66.7% growth rate. Watt was named Entrepreneur of the Year at The Grocer Golds last June, and this month Watt and co-founder Martin Dickie appeared for the first time in the Power List – our roundup of the 100 most powerful figures in the industry.