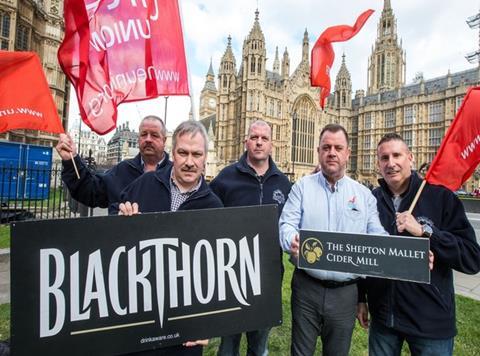 Unite has accused Magners producer C&C Group of treating its Somerset cidermakers with 'contempt'.

The union said the Irish drinks giant had behaved with "cavalier contempt" towards its Shepton Mallet Cider Mill workforce, as confusion "swirls" about the employment prospects of the remaining 80 workers. The turmoil follows the announcement in January that the Somerset factory would close by the end of the summer with the loss of 120 jobs, with production of such brands as Blackthorn and Olde English moved to Ireland.

Unite, however, has said that the company was finalising the legal details to TUPE - an unknown number of the 80 remaining staff to a yet-to-be identified new employer.

"C&C has treated the hardworking workforce at this very profitable site with cavalier contempt," said Unite regional co-ordinating officer Steve Preddy, adding there had been a "stunning lack of clarity from the bosses".

The union now believed that the 80 remaining workers could be transferred under TUPE regulations to a new, but unidentified employer.

"This no way to conduct mature employment relations in 2016 - lives have been turned upside down during the last nine months, while Dublin-based C&C has manoeuvred in the shadows to squeeze even more profit from its operations," said Preddy.

In April, it was announced that Brothers Drinks was taking over the bottling line, which cost an estimated £6m and had never been used, just across the road from the main Kilver Street site.

"We are delighted that there is the prospect that cider production at the site will continue, but appalled at the way the company has conducted itself," said Preddy.
C&C Group told The Grocer it was "in discussions" with a possible buyer, but that it would be premature to comment any further at this stage. It was expecting to be in a position to reveal more in "the near future", it said.