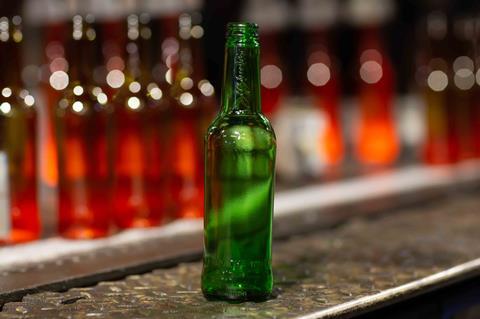 Carlsberg Marston's Brewing Company is to roll out a new glass beer bottle it claims reduces its core brand's carbon impact by up to 90%.
The brewer trialled the new bottle in partnership with its supplier Encirc, which switched to running its glass furnace on biogas – a renewable fuel made from waste organic materials and with lower carbon emissions than the natural gas it replaces.
As part of the same trial, it also increased recycled content of glass bottles to 100%, while maintaining quality, it said.
The combination of biogas and recycled glass cut the carbon impact of each bottle by up to 90%, said Carlsberg, with the potential to transform bottles from the highest carbon impact packaging type to the lowest, it claimed.
Encirc has manufactured one million of the new bottles for CMBC's Carlsberg Danish Pilsner. They are being filled at the Northampton brewery and will be circulated in the UK.
The trial had "huge potential" said CMBC senior procurement manager Sam Brakes. "We're proud to be working with pioneers in the industry, contributing to the development of a low-carbon future."
The move is the latest in a string of moves by CMBC to cut the carbon impact of its packaging. In 2019, it made its Carlsberg Danish Pilsner bottles 10g lighter, saving 130 tonnes of glass in the first year alone.