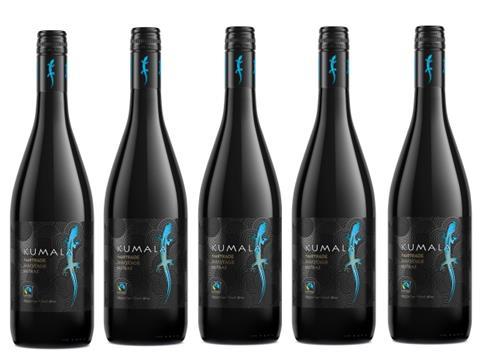 The Co-op has partnered with Accolade Wines brand Kumala to launch a new Fairtrade wine.
Kumala Pinotage Shiraz (12% abv) has rolled out across 2,100 stores across the UK throughout June, with funds from its sales set to be invested back into farming communities in the Western Cape of South Africa (rsp: £6.99/75cl).
Proceeds from the wine would "tie in nicely" with Fairtrade projects the Co-op was already involved in, said Brad Hill, Co-op Fairtrade strategy manager. "We have been heavily involved with Fairtrade wine projects for many years through our own-brand products, such as building a secondary school, a water treatment facility and renovating a major community centre."
It comes as the likes of Cadbury, Sainsbury's and Tesco have turned away from Fairtrade accreditation over the past year, with Tesco pursuing Rainforest Alliance accreditation for its own-label coffee, and Sainsbury's announcement it would be piloting a sustainability standard of its own.
"We are proud of the role that we have played in helping to establish the UK as the world's largest consumer of Fairtrade products and here at the Co-op we have a continued commitment to show our customers, members and producers how important it is to us," added Hill.