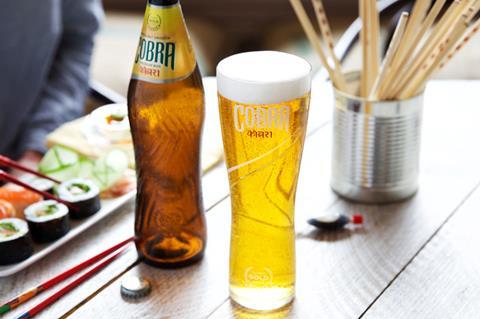 Cobra Beer has brought its entire furloughed sales staff back to work for a week for a cross-industry campaign to raise funds for South Asian countries hit badly by coronavirus.
The campaign, called Big Curry Night In, is spearheaded by the British Asian Trust in parnership with the Molson Coors beer brand, Uber Eats, Deliveroo and BT.
Running from 22 to 31 May, it will encourage households either ordering a curry from a takeaway, making their own or simply having a ready meal, to make a donation to the British Asian Trust's Covid-19 Emergency Appeal, which will distirbute the funds to India, Pakistan, Bangladesh and Sri Lanka.
"[The Cobra sales team] have been ringing every single Indian restaurant in the UK," said Cobra sales director Samson Sohail. "All our contacts, we are sending them texts, saying let's get together for this. From 10.30 to 12 midnight they are ringing them."
Restaurants that sign up to the campaign will give diners the option to add a pound to their delivery for the cause, which will then be matched by the British Asian Trust.
It comes weeks after Molson Coors last month scaled back its UK operations and rationalised its range to stave off damage from the coronavirus crisis. Cobra was one of several brands it is still producing as a priority during the lockdown.
"They've all come back and hit the ground running," added Cobra founder Karan Bilimoria. "They are very passionate about this. In a time of crisis we all do our best."
Cobra has deep links with the British restaurant sector, and supplies over 6,000 curry restaurants. "They have been our foundation from day one. They are the ones who have taken curry to every corner of this country," said Bilimoria.
The campaign has enlisted a swathe of celebrities such as Katy Perry, Jofra Archer and Ben Stokes. Brits taking part at home will be encouraged to share their experiences on social media with the hashtag #BigCurryNightIn.
It was a "unique opportunity for the nation to come together to support the struggling hospitality industry, whilst at the same time donating to a vital cause", said the British Asian Trust.