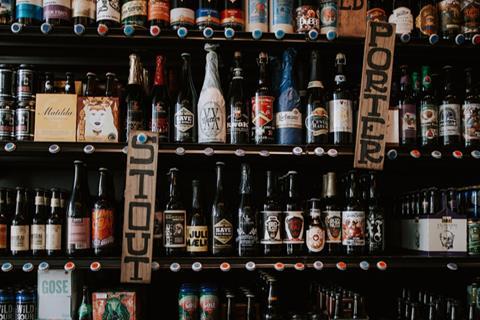 New guidance from alcohol industry watchdog the Portman Group risks "damaging the market" for speciality and craft beers, the Society of Independent Brewers has warned.
The Portman Group this morning launched the sixth edition of its code of practice for naming, packaging and promoting alcoholic drinks after a consultation period last year. The biggest changes comprise a new rule to prevent offensive marketing and a new unit-based definition for 'immoderate consumption', which dictates that single-serve, non-resealable containers shouldn't contain more than four units.
Yet many upmarket craft beers, such as double IPAs, stouts and porters brewed by Britain's growing horde of craft brewers, often contain upwards of four units thanks to their higher abv.
SIBA was "disappointed" to see the Portman Group pressing ahead with the new guidance, said its chief executive Mike Benner. "When you consider an average bottle of wine at 14% Abv contains 10 units of alcohol and a small bottle of spirits contains 14 units at 40% abv, then why target craft beers of only four units? As we know, beers like imperial stouts and IPAs may have stronger abvs than a 'regular' beer, but the strength is an integral component of their flavour and the style.
"Our research shows that the intention from the brewer - that they are savoured, enjoyed slowly and shared is matched by what consumers actually do. Their price point is radically different."
The Portman Group said in enforcing the guidance it may take into account "mitigating factors for products up to six units such as premium status, pricing and share message inclusion", which SIBA has welcomed.
But Benner said there were still "significant concerns about the impact the unit-based definition will have on craft brewers".
Portman Group chief executive John Timothy said the guidance "set out a common-sense approach to defining immoderate consumption, setting a unit-based threshold as a starting point, but also providing flexibility for the panel to consider the product in its wider context". The group was "confident that the guidance is nuanced enough to strike the right balance between protecting consumers and judging products fairly and in context", he added.
Crackdown on offensive packaging
The new code also introduced guidance to crack down on discrimination against race, religion, gender, sexual orientation, disability and age on packaging material.
There had been "strong support in the consultation to introduce a new rule around offence, showing that the industry understands that responsible marketing needs to evolve in line with changing standards in society", said Timothy.
Wild Card Brewery head brewer Jaega Wise, who has campaigned against sexism and discrimination in the brewing industry, heralded the move as "an important change that will make a big difference to how beer in particular is marketed especially with regards to women".
It comes as tensions have flared between the craft sector and the Portman Group over past years, the watchdog having rebuked a number of craft brewers, including BrewDog and Tiny Rebel, for packaging it deemed to be irresponsible or appealing to children.
After it was told to change the artwork on cans of its Cwtch ale, Tiny Rebel MD Brad Cummings blasted the group for not including independent brewers on its board and handing down a decision that cost his business roughly £30,000 (the cost of redesigning the can and loss of stock) after just one complaint from a consumer.


Daniel is The Grocer's food and drink editor and is responsible for our product coverage across all fmcg categories.

Daniel has written about food and drink for the majority of his career: prior to joining The Grocer in 2017, he covered food and drink news on pub industry title The Morning Advertiser, and wrote features for VICE magazine.

Follow Daniel on Twitter: @WoolfsonExists