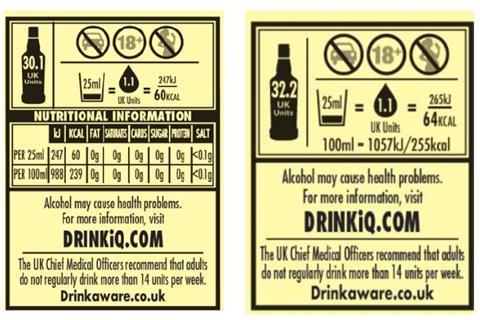 Diageo is to roll out voluntary health warning labels across a host of its spirits brands in the UK.
The labels, which feature nutritional information as well as health warnings, will first roll out across its one litre bottles of Smirnoff and Gordon's Pink Gin in early 2021, followed closely by Bailey's and Captain Morgan and then the rest of its brands as old stocks are replaced.
Diageo UK MD Dayalan Nayager said the supplier thought it "essential that our consumers make informed choices about alcohol".
"We want to change the way the world drinks for the better, and today's initiatives are just the first step forward in our long-term global ambition to reach one billion people with messages of moderation over the next 10 years," he added.
The health warning labels will direct shoppers to Diageo's updated consumer website DrinkIQ, which provides information on alcohol and its impact on the body, as well as a range of resources to encourage moderate consumption, said Diageo.
New material on the website includes a self-assessment test to help people identify whether they may be drinking at harmful levels, which then directs those at risk to where they can find more information or help.
Diageo isn't the only spirits giant shooting for greater transparency on its packs.
Rival Pernod Ricard, for instance, has committed to providing full calorie information across its range – approximately 80% of its labels now do so.
Beyond calories there were "multiple areas on which we need to update product labels", its commercial director Ian Peart told The Grocer, such as regulatory requirements related to Brexit, Chief Medical Officers guidelines and wider industry commitments.