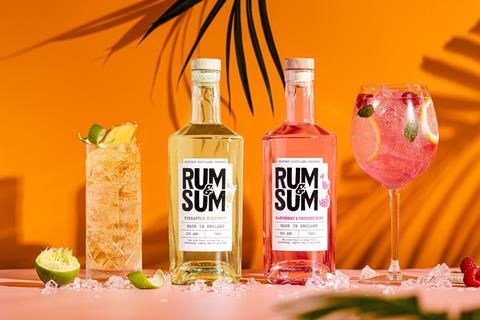 Hannah Boon, a former wholesale director at Diageo GB, has launched Distinct Distillers, a spirits brand house and contract distilling business.
The Distinct Distillers venture – which has been privately funded – has begun with an emphasis on rum.
It launched its Rum & Sum brand earlier this year with two flavoured white rum variants, and will introduce a "super-premium" Distinct Collection in November.
Moves into RTDs and other spirits categories would follow next year, Boon said.
Rum & Sum had been created with the aim of "creating something that doesn't look like rum" and could tap into the lack of options outside spiced, Boon said.
"We wanted to create a rum you can mix with tonic, lemonade or ginger ale, and that would make a great base for loads of cocktails," she said.
So far, the Rum & Sum range comprises Rapsberry & Mint and Pineapple & Coconut variants (rsp: £29/70cl).
Boon said she was seeking grocery distribution for the Rum & Sum brand, but that the Distinct Collection would be pitched at specialist retailers and independent convenience stores that could "carry the super-premium price tag".
Distinct Distillers is also – in partnership with Boon's brother's agriculture business – turning fermented waste created from spirits production into fertiliser and animal feed.
This Boon said, was "being used by some of the top sustainable farmers in the UK" to improve ecosystems and soil health.
As well as making and selling its own brands, Distinct Distillers intends to make producing spirits for third parties a key part of its business model.
The distillery – based on a former 36 acre WW2 fuel depot in Telford, Shropshire – can produce and package rum, vodka and gin at scale. Boon said she was targeting both large and small businesses that wanted their own house spirits.
"It's a huge opportunity, not only for big retailers, but even for smaller groups to have their own house spirits range that will more than likely be margin additive," she said. "We want to make spirits more accessible to these people because it isn't always an easy business to get into."