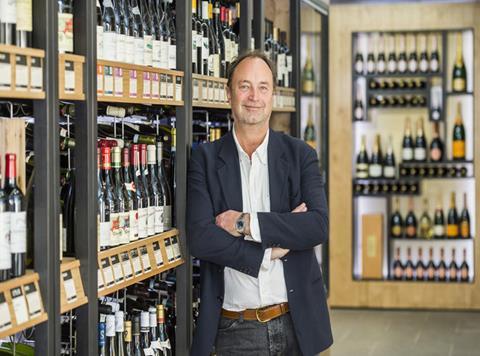 If you build it, they will come: that mantra sustained years of expansion for food and drink retailers. But with the exception of Aldi and Lidl, store openings have fallen out of favour, with the big four scrapping planned sites, and closing existing stores.

Now Majestic Wine is the latest to join the trend, as CEO Rowan Gormley announced its UK store target was being slashed from 330 to 230 - against a current total of 211.

The move came as Majestic revealed its results for the six months ending 28 September 2015. They were a mixed picture: pre-tax profits halved to £4.3m, and Gormley warned full-year profits would be lower than expected due to investment in new format trials in the past few months.

But sales are up 6%, excluding the contribution from online retailer Naked Wines, which joined with Gormley's arrival in April. And sales at Naked itself are up 35%.

Gormley insists the end of the space race for Majestic is not about prioritising online over bricks and mortar. "We're completely channel agnostic," he says. "We believe we can grow sales without opening new stores by generating more footfall in existing stores. We're very pleased we've got the mature stores growing again, for the first time since 2011," he says.

His three-year turnaround plan is targeting annual sales of £500m by 2019, up from around £360m now.

The upturn so far is down to "revolutionary" changes like introducing shopping baskets and simplifying prices. Last month, Majestic scrapped its six-bottle minimum purchase policy - and Gormley says so far the increase in footfall has outweighed the drop in average basket size.

Empowering store managers

But in the medium term , the core of Gormley's strategy is his people. While Majestic once gave its staff licence to be entrepreneurial and to demonstrate initiative, this had reduced over time, he says, with more decisions taken at head office. As a result, staff engagement fell and annual turnover of store managers reached an "unacceptably high" rate of 23%.

"We've got intelligent people, we weren't treating them like intelligent people, and we want to do that," he says. "The thing every customer says is: your people are brilliant, but every time I come in there's a new face. Store manager attrition had got really high. What was important for us was to keep good experienced retailers back in store."

He has taken a number of steps to address this. Bonuses have been uncapped, which Gormley sees as creating a win-win: "If we end up with store managers making a pile of money, no one's gonna be happier than us because it means they will have earned it."

He's also introduced 20 'Jedi stores', designed to give their managers almost total autonomy over areas like hiring, staff levels, opening hours and merchandising. Eventually, Gormley wants to see the whole business run this way.

The signs are Gormley's changes are making a difference - a Majestic store manager told The Grocer moves to empower managers had been "almost universally well received", and that communication from head office had improved.

G+

"It used to be a slow and indirect process but now people can just throw up questions into [WHAT IS THIS?] G+ and we get quick replies," they said. "Rowan Gormley is on there too, answering questions."

The market gave Monday's announcements a cautiously positive response. Shares opened on Monday at an eight-month low of 287.75p, down 11%, but quickly rebounded as investors took in the strategy announcement. Investment bank Liberum held its 'buy' rating - though it lowered its target price from 500p to 400p due to a "very poor" share price performance leading into the results.

Wayne Brown, equity research analyst at Liberum, says the approach Gormley is taking to the business is sound. "The new strategy is a reflection of declining ROIs in its store base, where branch costs are inflexible," says Brown. "By moving the model to a more flexible approach of acquiring customers, then the ability to drive ROI should be much enhanced."

Investec analyst Alistair Davies adds: "An encouraging first half gives us confidence that management is making the right decisions as part of a three-year transformation plan for Majestic, focusing on customer recruitment and retention."

Although Majestic's strategy announcement stated that the chain's existing 211 stores were under review, Gormley insisted store closures and job losses were not on the cards "in any material sense" - though did acknowledge a few could close. "We're definitely not a position like a lot of retailers though, where 20%-30% of the estate should never have been invested in," he adds.

While some of the said retailers have been ripping their hair out trying to handle to challenge posed by Aldi, Gormley isn't rattled by Aldi's recently announced move into online wine sales either. He grants that Aldi is a "company you have to respect and not take lightly," but Gormley is measured about its chances. "The list of successful offline retailers who have opened an online shop and then been surprised when nothing has happened is a long one," he adds.
Timeline
7 January 2015 - Majestic announces like-for-like sales over the Christmas period grew 1%, after it squeezed margins in a bid to compete on price. The company's share price falls by more than 20% in two days, to 318p.
19 February - CEO Steve Lewis resigns from the company with immediate effect, with FD Nigel Aldritt taking over on an interim basis.
10 April - Majestic seals £70m takeover of Naked Wines. Naked CEO Rowan Gormley is appointed as head of the enlarged company. Shares in Majestic immediately fall 12.9% to a year-long low of 280p.
29 May - Gormley announces Majestic's six-bottle minimum purchase will eb scarpped in six stores on a three month trial - after writing to all store managers to request volunteers for the scheme.
28 July - The Naked Wines Click & Collect service launches, allowing 150,000 'angel' customers - those who crowd-funded the business - to collect their wine from Majestic stores.
6 August - The company announces that Aldritt, now group financial officer, will leave the company in November, to be replaced by Naked Wines finance director James Crawford.
11 September - Majestic unveils its first set of own-label wines, Definition. The retailer says that once an allocation is sold, the next batch may come from a different source.
25 September - Former B&Q director John Colley is appointed as MD of Majestic Wine's store network. Colley was CEO of Dutch DIY chain Praxis until earlier this year.
27 October - Majestic scraps its six-bottle minimum across the whole store network.
16 November - Gormley cuts the target size for Majestic's UK store network from 330 to 230.