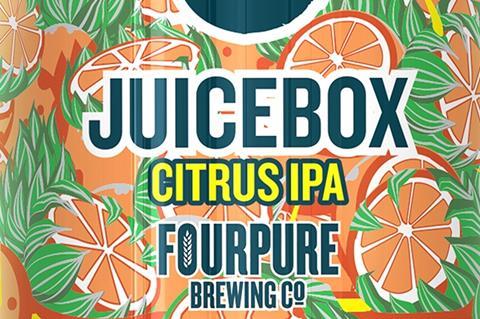 Fourpure Brewing Co's Juicebox IPA has fallen foul of industry watchdog the Portman Group.
The watchdog's Independent Complaints Panel has ruled today (6 January) the beer, whose can features images of "fruit and stylised sunshine imagery", risked appealing to children.
"The panel was concerned that children might see the product and think it was a juice drink and considered that the 'Citrus IPA' description was not clear enough to dispel that impression to a child who would be unfamiliar with beer categories," a statement from the watchdog said.
The complaint that sparked the ruling was not made by a consumer. Rather, it was made by food & drink consultancy Zenith Global, which the watchdog hired to carry out an audit of randomly selected drinks to measure compliance in the market.
Zenith Global said it felt the "imagery and name on the product did not provide absolute clarity that [Juicebox] was alcoholic".
Fourpure argued Juicebox had been sold since March 2016 and was a "a consistent top-selling brand". It had "never received any complaints from consumers or regulators" and "no retailers had suggested the packaging was particularly appealing to under-18s or that it was insufficiently clear the product was a beer".
Chair of the Independent Complaints Panel Jenny Watson defended the decision, stating that the "stylised image of a heap of oranges, including one depicted as a sun", alongside the name 'Juicebox' meant that the product had a particular appeal to under-18s.
"It once again highlights how important it is for producers to consult the Code of Practice and the Portman Group's advisory service before launching a product to avoid problems before they arise," she added.
The ruling comes just one month after the Portman Group issued a Retailer Alert Bulletin against fellow craft brewer Tiny Rebel's Cwtch ale, which it ruled risked appealing to under-18s for the second time in three years.
Tiny Rebel argued it had worked with the Portman Group and splashed out around £30,000 rebranding the beer after the first complaint in 2017, and said it would not change the packaging a second time.