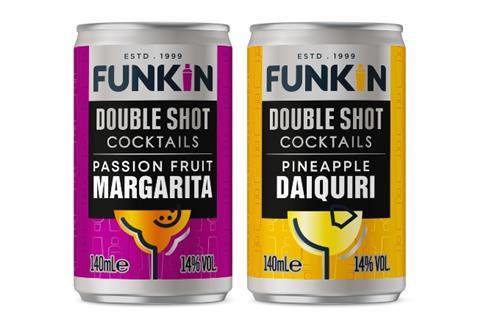 Funkin Cocktails is to debut a new 'Double Shot' range of stronger ready-to-drink cocktails.
The range will initially comprise Passion Fruit Margarita and Pineapple Daiquiri variants, both of which have an abv of 14%.
The duo, which Funkin said were developed to "tap into the growing demand" for RTD cocktails at a higher strength, have rolled into Sainsbury's stores (rsp: £3.50/140ml).
Funkin's standard strength 200ml RTD cans have an abv of 5%, and the AG Barr-owned brand also makes 10% abv 'Bartender' and 0% alcohol-free serves.
"Cocktail consumption is at an all-time high, with many consumers preferring to treat themselves to a premium drink at home," Funkin said. "With half of drinkers willing to pay extra for a quality drink, experiencing bar-quality serves from the comfort of their own living room is top of the agenda."
The new serves would "allow retailers to unlock this flourishing opportunity within premium ready to drink cocktails," it added.
Funkin marketing director Ben Anderson said the innovation came after careful examination of shoppers' buying habits.
"This latest addition to our cocktail collection has been developed to bring the twists on premium cocktails shoppers know and love, whenever and wherever they are," he said. "Our innovation is always insights-driven to make sure we're anticipating shoppers' desires – and shoppers certainly have their eyes on premium cocktails right now.
Earlier this month, Scottish brewer and distiller BrewDog announced it would launch a range of five canned cocktails under an umbrella brand called Wonderland Cocktail Co.
The drinks would be between 10%-14% abv and would roll into Morrisons in mid-October, BrewDog said.