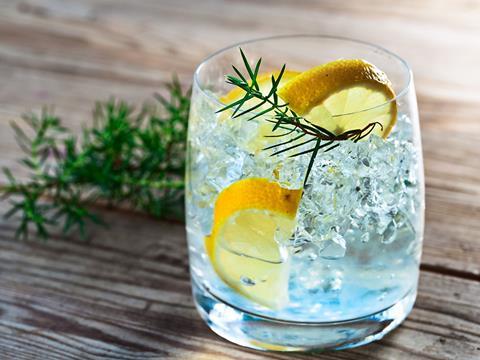 Cool Britannia's back! But this time, Alex James isn't wearing a Union flag dress in Soho on the cover of Loaded. Or whatever. No, the unmissed movement has been rebooted and relocated – one might say thankfully – to the US, where all things Blighty are hip once again. The likes of 007, the Dowager Countess of Grantham and Adele 'Adele' Adkins are said to be to blame.
But it's good news for British booze brands as exports of beer, wine and spirits to the States have hit a record high. Gin has been the standout tipple across the Atlantic – and also at home, where its renaissance began last year. More than 40% of young British adults drank gin during 2015, according to Mintel, which expects UK sales to exceed £1.3bn by 2020.
That's great news for suppliers, obviously, and also for discerning punters everywhere, who have a bottomless bottle of NPD to mix with their Indian tonic. The mother's ruin of Orwell's Nineteen Eighty-Four gives off "a sickly, oily smell" – but these days (and in real life) it's more likely to have a zesty aroma.
Chase Distillery, for instance, is about to launch the limited edition Williams Pink Grapefruit Gin in Selfridges, which is a darn fruitier prospect than the unlovable grog Winston Smith chokes down. And maybe that sanguine face of his would appear younger than its 39 years had he access to Anti-aGin, an 'anti-ageing' spirit that is an actual, real thing from Warner Leisure Hotels.
All this innovation is fascinating, but – as with Anti-aGin (which was created with input from Nicky Hambleton-Jones; her off the telly's 10 Years Younger) – there's a danger that faddishness overtakes the true spirit of the, er, spirit, not only dampening its singular, disgusting-yet-alluring flavour but also removing the simple elegance that makes it so quintessentially British. A summer G&T at magic hour won't really be the genuine thing if it tastes like breakfast fruit and makes enigmatic promises of immortality.
Also, the artisanal attention being paid to gin, while laudable, mustn't be to the detriment of the UK's other national spirit, scotch whisky, which is finally back on the up after years of decline. We will ignore Northern Britain's liquid gold at our peril – with the result of another sales slump and even more casks being opened way, way too early.
So, let's raise two glasses – one of gin and one of scotch – to a prosperous future for the UK's distillers. May they remember to glance at the past while looking towards the future, be mercurial but also staid, and have both a sense of humour and a sense of tradition.