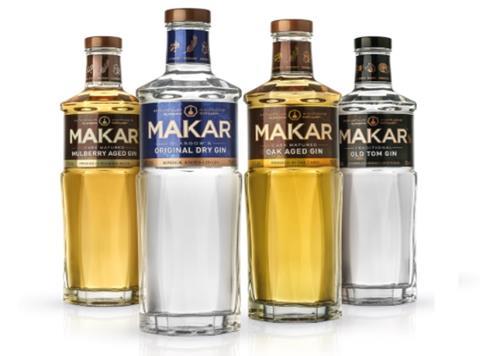 Halewood Wines & Spirits has boosted its posh spirits portfolio via a distribution deal with The Glasgow Distillery Company.
The Scottish brand's Makar Gin and G52 Urban Craft Vodka will join the likes of Whitley Neill and Liverpool Gin in Halewood's growing range.
Makar had already "enjoyed a lot of success in Scotland, with growth more than doubling in recent years" said Glasgow Distillery founder and CEO Liam Hughes. "Working with Halewood gives us an exciting opportunity to widen the net and deliver our products to the UK and Ireland in both the on and off trade."
A renewed focus on posh spirits has turned Halewood's fortunes around over the past two years, driving it out of the red and firmly into the black. Revenues for the year ending 1 July were up £2.03m to £216m, its latest results revealed, with EBITDA hitting £10.7m, up from £7.5m. This time two years ago it was operating at a loss of £8.2m.
The distributor's transformation and "the scale and quality of its sales force and logistics" were a key draw, said Hughes. "We knew very quickly during discussions that it was the perfect partner to help take our business forward."
The tie-up with Glasgow Distillery marks the latest in a series of deals and acquisitions for Halewood since the start of the year. It added two new flavours to Whitley Neill in January and resurrected dormant Scotch whisky brand John Crabbie with the launch of two single malts. In February, Halewood announced the buyout of trendy Cornish rum brand Dead Man's Fingers for an undisclosed sum.