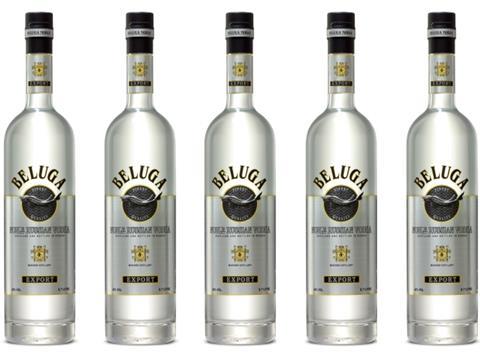 Halewood Wines & Spirits has cut a deal to distribute posh Russian vodka brand Beluga in the UK & ROI.
The Siberian brand, which was previously distributed by Cellar Trends, will join Halewood's portfolio from 1 July.
It has five 40% abv SKUs: Noble, Transatlantic, Allure, Gold Line and Hunting Vodkas. Noble - the lead SKU - will cost £40/70cl, while the rsps of the other SKUs are yet to be confirmed.
The brand had "built a worldwide reputation for producing high quality vodka," said Halewood group CEO Stewart Hainsworth. "We see tremendous opportunity to take the brand on to even greater success."
Beluga was "confident" Halewood could deliver "significant growth", said the brand's export manager for Western Europe, Sergey Mikhaylov, thanks to the UK's position as "one of the world's largest luxury vodka markets".
It comes as Halewood last month added a new unflavoured rye vodka to its popular Whitley Neill brand. In March, it cut a distribution deal with Glasgow Distillery Co to distribute the Scottish brand's Makar Gin and G52 Urban Craft Vodka.
Halewood, previously best known for being the parent company of Lambrini, has seen its fortunes turned around over the last two years thanks to a shift in strategy towards posh spirits. In January it posted operating profits of £4.8m - two years prior it had just posted a loss of £8.2m.
It is also currently investing £7m into a new distillery for its recently resurrected John Crabbie Scotch whisky brand in Edinburgh, the first new distillery to open in the Scottish capital for over a century.