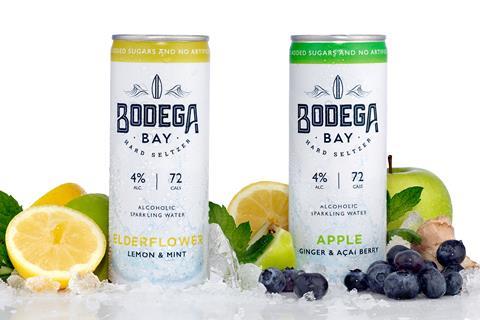 Hard seltzer startup Bodega Bay has netted a trial listing with Sainsbury's in the retailer's Taste of the Future bays.
The brand's two flavours – Apple with Ginger & Açai Berry and Elderflower with Lemon & Mint (both 4% abv) – will hit 72 of the retailer's stores on a trial basis from 19 January (£2/250ml). It marks Bodega Bay's first multiple retail listing.
Bodega Bay founder Charlie Markland said he was "delighted to offer a choice for those healthy hedonists out there".
"Seltzers appeal to our target audience of 'woke' millennials because of their low calorie and sugar content, but also due to the fact they're gluten-free and vegan."
The brand also plans to mount a crowdfunding campaign next year.
Hard seltzers have been a phenomenal success in the US, and many small brands are hoping it will gather similar steam in the UK: the last year has seen a flurry of brands, such as Drty and Sparkl, hit the market.
AB InBev, meanwhile, is banking on US smash hit brand Mike's. Its incubator wing, ZX Ventures, launched Mike's Hard Sparkling Water in November into convenience and online.