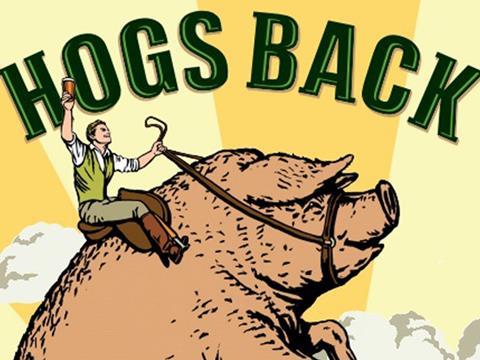 What's the matter lagerboy? Afraid you might taste something? The slogan, emblazoned across beer mats and real ale drinkers' T-shirts the length and breadth of Britain, has helped Hobgoblin become an £18m brand in the off-trade [IRI]. And counting…
Now the man who developed Hobgoblin - as well as Britain's biggest premium bottled ale brand Old Speckled Hen - has turned lagerboy himself. And Rupert Thompson, managing director of Surrey's Hogs Back Brewery, wants to introduce drinkers to what he says is still a rarity: "A lager you can taste. A new breed of English lager designed for a discriminating palate."
Enter Hogstar, a 4.5% abv unpasteurised lager that's so far won listings at Majestic wine and independents across the South East. Thompson is now negotiation national listings for the brand. His ambitions for the brand are grand indeed -he's also seeking listings for a version brewed with chocolate and claims Hogstar will overtake flagship brew TEA (Traditional English Ale) as Hogs Back's biggest brand in the next few years.
His ambitions do not end there. Since taking over the helm of Hogs Back in 2012, Thompson has branched into cider with the launch of Hazy Hog, relaunched the brewery's offerings with new branding, planted what he says is set to become the UK's biggest brewery-owned hop garden, and set about helping TEA follow in the footsteps of Hobgoblin and Old Speckled Hen to become a national brand.
Quirky brand
"TEA is an ale in the traditional style - very balanced with a lot of malt. It is now in the middle ground, starting to move from being a local to a national brand," says Thompson, pointing to IRI figures that show sales of TEA - stocked nationally by Waitrose and Sainsbury's and regionally by Asda, Tesco and Majestic Wine - have surged 104.3% on volumes up 109.4% [52 w/e 26 April].
The brewery's quirky rebranding, complete with an impression of the brewhouse perched on the back of a giant pig, signifying the brand's home (a stretch of the North Downs known as the Hog's Back) has been key to bringing the brand's image up to date and helping TEA stand out from the crowd, says Thompson. It also helped open up exports as far afield as South East Asia.
While Hogs Back is still small in the off-trade (just £739,000, according to IRI), the omens are good for future growth and not just because of Thompson's record of developing market-leading beer brands.
Two weeks ago, over Father's Day weekend, the Hogs Back beer shop sold out of Hogstar. Admittedly, the sun was shining and this was the final weekend to stock up before England's first World Cup match, but the strong sales also reflect a growing appetite for craft lagers. "We've created something that defines a new sector: a new breed of English lager," says Thompson.
Hogs Back is in good company. In recent years, a host of brewers - including Shepherd Neame, Freedom Brewery and Harviestoun , which supplies an own-label craft lager for Sainsbury's -have launched lagers brewed the traditional way and purportedly offering more flavour.
Drumming home that point of difference is vital. "The off-trade is very hard," says Thompson. "The big boys are so efficient and drive such heavy promotional activity. This sometimes means it's not profitable for others in the sector, which isn't healthy.
"If you don't have innovation, the sector will die and customers will lose interest. Our philosophy is to produce a beer that we're really proud of and that is different because it's a very crowded market. If you copy your competition, you won't win."
Another trend Thompson is looking to tap is growing demand for products with provenance. In April, a traditional hop garden was planted beside the brewery. The hops - a variety known as the Farnham Whitebine, grown extensively in the area in the 1700s - are so local Thompson can see them from his office window.
Terroir
Thompson's plan is to make a small run of beer with green hops from the autumn harvest but leave the remaining majority of the crops to mature for a year until the flowers die back and the goodness goes into the tubers. In 2015, there'll be a beer that's as local as it can get.
"We'll brew a beer based on Farnham Whitebine and only Farnham Whitebine," he says. "The concept is the beer equivalent to French wine's terroir, where the land on which you grow imparts a character to the wine."
Credentials like that allow brands to justify much higher average prices than their mainstream rivals. Over the past year, a litre of Hogs Back beer has sold for an average of £3.63 [IRI] compared with an average across the ale market of £2.60. Thompson wants to continue to convince drinkers that his beers are worth paying more for by encouraging them to be matched with certain foods.
Hogs Back is running tastings at food festivals and local supermarkets to this end. Popular matchings have included TEA with Scotch eggs or pies, its new chocolate Hogstar (co-branded with Montezuma Chocolate) with Mexican food, and Hazy Hog with hot dogs. "People are looking for new occasions to drink beer," says head of sales David Paterson. "Customers have been contacting us via social media to ask for advice on beer and food matching at dinner parties."
Some have even asked about what to pair Hogstar with. Lager at a dinner party? Now there's proof of how far lager's come.