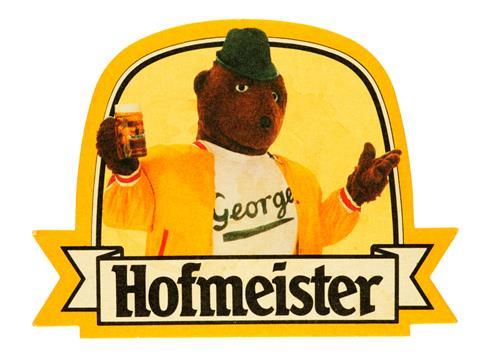 Hofmeister looks poised to make a comeback as a craft ale, 13 years after the low-strength lager was axed by Scottish & Newcastle.

The beer - a contender in The Grocer's Bring Back a Brand campaign - was registered with the Intellectual Property Office at the end of August for product categories such as beer, lager, stout, porter and shandy, alongside less obvious sectors, including clothing, footwear and headgear. It was registered by The Hofmeister Brewing Company.

The Grocer understands Hofmeister is set to be relaunched as an 'authentic' Bavarian beer, that will initially be available to the on-trade.

It is understood full details of the relaunch will be revealed on 20 October.

Hofmeister was killed off in 2003, having suffered along with a raft of older beer and lager brands at the explosion of brands such as Stella Artois. Its demise marked the end of an era in British advertising as its mascot, George the Hofmeister bear, was also put to rest.

In the Hofmeister ads of the 1980s, the trilby-wearing George was seen swaggering around town with a group of Cockney geezers. The ads featured the slogan 'For great lager, follow the bear'.

The task of bringing back a brand with "no distribution" would be "really, really hard", said Nigel McNally, who heads up Brookfield Drinks, the company behind the relaunch of lager and cider brands such as Kestrel, Diamond and Star. "Why would someone swap their existing brand with something that has not been available for more than a decade?"

Hofmeister formed part of the original shortlist of 10 in The Grocer's Bring Back a Brand campaign in January 2012, which was launched to find the UK's most fondly remembered brands.