The wave of celebrity booze brands is rising – as are their sales. So how have the likes of Kylie Minogue and Snoop Dogg captured the attention of shoppers?
Walking down the Sainsbury's wine aisle last summer you may have come across a lifesize photo of Kylie Minogue placed there just for selfies. Would you call it an experience? Maybe not. But memorable? Certainly.
Cardboard Kylie was there to promote her wine brand, last year's fastest climber in The Grocer's survey of Britain's Biggest Alcohol Brands, and just one of a host of celebrity wine and spirits making their weight felt in the booze aisle.
George Clooney set the bar high when he and his pal Rande Gerber (Mr Cindy Crawford) sold his Casamigos tequila to Diageo for $1bn in 2018, making George that year's highest paid actor. But now they're coming thick and fast: Sassenach Spirits from Sam Heughan (Outlander), 818 Tequila by Kendall Jenner, Dos Hombres mezcal by Breaking Bad stars Aaron Paul and Bryan Cranston, Snoop Dogg's Cali wine, and Served hard seltzer backed by Ellie Goulding to name just a few.
In the UK Haig Club Clubman (RRP £28) (the brand associated with David Beckham) is the highest valued celeb offering in the UK spirit charts, maintaining position this year at number 32 with sales down 4.1% to £23.7 million; not bad in a category down 9.7% and still adjusting to post-pandemic life.
With many celeb brands now on the market for some time, it has become clearer what separates the wheat from the chaff as shoppers pull belts ever tighter.
The winners are pulling ahead in several unique ways. Most important is starting off with a clear fanbase. Gordon Ramsay, for example, has launched a wine and gin in the past 18 months, letting his 90 million social media followers globally know all about it. These are people already interested in food and flavour, and so are naturally placed to become the next gin lovers in a highly competitive market, says Matthew Turner, marketing director at Eden Mill Distillery, which launched Ramsay's gin (RRP £28) with the Michelin-starred chef last June.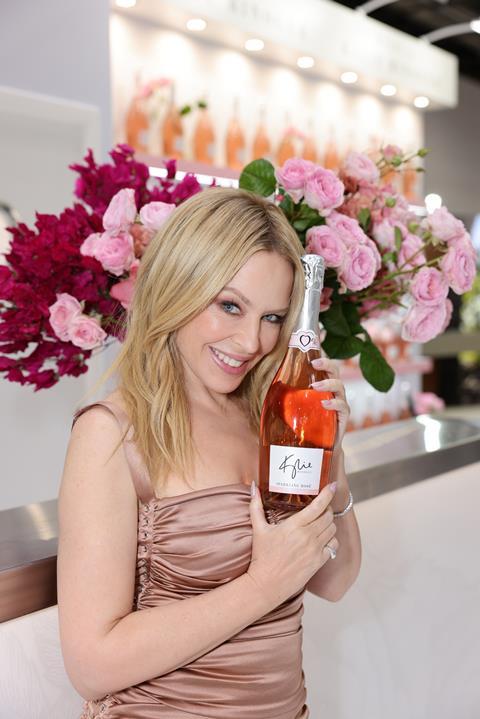 "What's really important with the celebrity is that they have that broad demographic spread," adds Paul Schaafsma, who set up Benchmark Drinks in 2018 and has since launched wines with the likes of Kylie, Gary Barlow and Graham Norton. "Kylie has fans who are 20 years of age and 60 years of age – you don't want to launch a brand for one small part of the demographic."
This has helped her wine be the biggest success of any celebrity booze brand at Sainsbury's, says Georgina Haughton, head of wine buying at the supermarket. "It's a really straightforward message, she appeals to all generations, and she's tapped into the boom of prosecco and rosé, a winning combination. It's also been carefully positioned to hit the core £7-£10 rosé price point."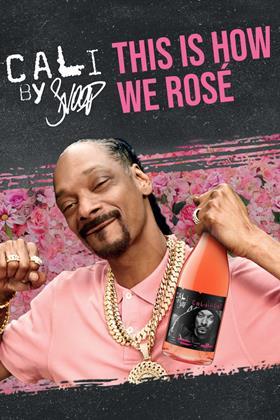 The second big factor in determining success is that buzzword: authenticity. "Where celebrity brands succeed, I believe it's because the celebrity has spent time developing the product and marketing it," says Haughton. "Kylie is very hands-on. As is Graham Norton. ."
As is Cara Delevingne, who with her two sisters launched Della Vite in 2020, a brand made up of two proseccos. The Delevingne sisters travel to meet with key accounts in the UK and US and were "heavily involved" with finding a winery to partner with, says Numa Heathcote, co-founder of Della Vite. Their connections to different industries "enables us to broaden our appeal and reach new and different drinkers", he adds.
The most successful celebrity brands connect with their consumers and make them feel comfortable, explains Schaafsma. Unlike, say, Australians, Brits are not a country of shoppers who traipse round wineries at the weekend, he adds. Most people's experience of wine boils down to walking the wine aisle (93% will never meet a winemaker).
This makes striking that connection through authentic involvement even more important. Social media can play a crucial role in this. Eden Mill's Turner describes Ramsay as "a driving force" behind his brand of gin, not only choosing the botanicals foraged in Fife with head distiller Scott Ferguson, but also playing a major marketing role.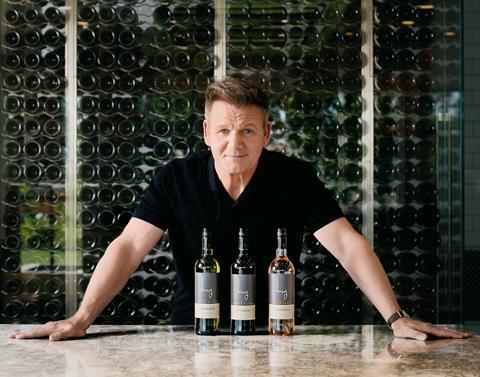 "One of the strongest pieces of content we put out recently was a reel making a cocktail on Instagram. The impressions are very high as people watch them six or seven times learning how to make the cocktail," adds Turner. "People are becoming more adventurous – the amount they are drinking and the frequency is declining, but the quality is increasing."
After that, it's a matter of doing something different. Take Snoop Dogg, who launched his wine in the UK last August. Customers who buy a bottle of Cali by Snoop wine can 'Ask the Doggfather' questions via a QR code on bottle. It means taking a bottle round to your friend's house could certainly prove a talking point.
It is all part of the plan by owner Treasury Wine Estates to appeal to new audiences, particularly in the 18 to 35 demographic. "Plenty of 18 to 35-year-old drinkers perceive wine as unapproachable," says Ben Blake, head of marketing EMEA at Treasury Wine Estates. "Launching a brand by Snoop has disrupted the category and recruited new wine drinkers in this demographic.
"Snoop challenges the convention of wine with a unique narrative and sense of personality, underpinned by the wine's approachability… aligned with a west coast lifestyle."
A laidback west coast approach on its own, however, can't do it all. With shoppers eyeing up price labels like never before, celebs can't just rely on authenticity, or asking the Doggfather. Quality is ultimately key.
As Schaafsma concludes: "The consumer will pick it up once based on the celebrity. They come back the second time because of the wine."
Which celebrities are adding star power to food and drink?
1

2

Currently reading

How celebrity booze brands stand out from the crowd

3

4

5