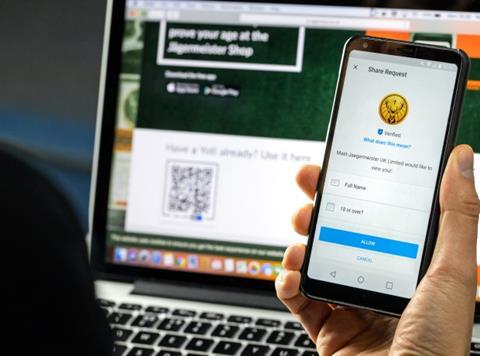 Jägermeister is to begin selling booze from its website via debit card for the first time.
The liqueur brand had previously shied away from allowing debit card sales online because of the difficulty in verifying shoppers' ages.
It has now teamed up with age-verification app Yoti for the move. The app verifies details from users' official ID documents, and creates a virtual ID which can be used online or in person with a QR code.
The move meant Jägermeister could "offer a frictionless and secure way for our customers to prove their age online" and "comply with age verification in a way that favours our customers' privacy".
It comes on the back of a new £1m campaign designed to reposition the drink for a younger audience.
The brand has launched a new ad, called 'Be The Meister', which plays up the idea that the drink is best served at -18c.
Off-trade sales of Jägermeister were down 4.5% last year, falling £1.2m to £24.5m, on volumes down 3.3% [Nielsen 52 w/e 8 September 2018].