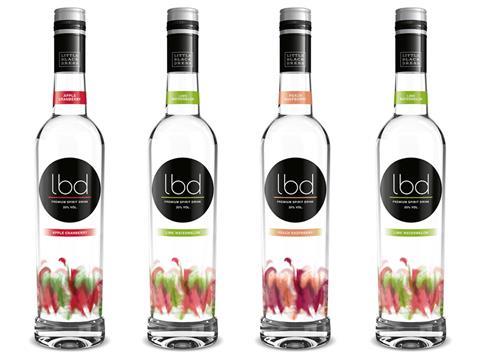 Brown-Forman is aiming to tap the demand among young female consumers for lighter, fruitier drinks with a 20% abv vodka-based drinks range called LBD (Little Black Dress).

The range, which is rolling into Asda on an exclusive basis next week, comes in three dual-fruit flavours: peach & raspberry, apple & cranberry and lime & watermelon. It will be available in a tall 50cl bottle (rsp: £11.99) and 250ml pre-mix cans that will be sold on a permanent two-for-£3 deal, or £1.87 a can.

The newcomer, which will be squaring up to Diageo's Parrot Bay trio of 19% abv fruit-flavoured spirit drinks launched last November, would tap a "growing global trend for light and refreshing" alcoholic drinks, said Brown-Forman area marketing manager Charlotte Ashburner.

The drinks feature hazy, watercolour-style graphics with a bold black label and bottle neck, and had been designed to appeal to 19 to 24-year-old women looking for a drink they could "simply mix with lemonade at home while getting ready to go out with friends", said Ashburner.

Developed in the UK and launched here first, Brown-Forman said several other markets planned to introduce LBD in the next 12 to 18 months.

Brown-Forman is supporting the launch with digital and in-store activity, with messaging based on a We Go Together strapline to highlight the two fruits used in each flavour.